Contestants face extra challenge as filming of renovations for TV show continues with safety measures.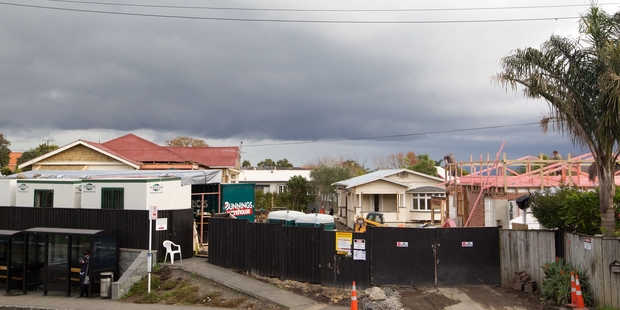 Three of the four houses being renovated by amateurs for the popular local reality show The Block are covered in lead paint.
A professional who is qualified to strip lead paint said inexperienced people should not remove it because of the danger of poisoning themselves and others in the area.
The four houses are all next to one another in Lake Rd on Auckland's North Shore and are opposite Takapuna Grammar School.
One of the sections was subdivided so a fourth house could be brought on to the property.
Executive producer for the TV3 programme, Greg Heathcote, confirmed to the Herald that three of the houses had lead paint but said every safety precaution was taken during filming. Where necessary professionals from Dulux - a sponsor for the show - will be used.
"Amateurs can remove it as long as they have the correct safety equipment and the scrapings are disposed of in a hazardous waste facility," Mr Heathcote said.
However, professional painter Sean Taylor said removing lead paint could be dangerous and should be tackled by someone with experience.
Mr Taylor, owner of Taylor Painting Services and a qualified lead paint remover, said it was not a job for amateurs. "If it's not done properly, there's a chance it could enter your system."
Professional painters take specific precautions, use paint-stripper, contain the fumes with vacuums, and use respirators - Mr Taylor said it was "quite a major production". And when the paint is being stripped, it's usually only the painters who are allowed on site because of the risk.
Lead paint can be painted over, but there's a risk it will break down after a couple of years. Removal costs anywhere between $1000 and $5000 and can take up to a week. This is likely to be an extra challenge for the contestants who were given the lead-painted houses.
Consumer NZ said if a house was built before 1980, it should be assumed that it has some lead-based paint. "This is a problem because when you start to remove the paint you risk absorbing the lead through contact with your skin, or from the atmosphere through sanding dust or flakes," it said on its website. "It contaminates clothing and furnishings and can lead to lead poisoning. Symptoms of lead poisoning include stomach pains, loss of appetite, weakness and difficulty walking. It can eventually lead to death."
Last Wednesday, the four teams were revealed in the Herald. This season will feature Auckland animal wrangler Koan Vette and his PR consultant partner Alisa Keall-Grant, Alice and Caleb Pearson, farmer brothers Pete and Andy Walker, and Nelson couple Loz and Tom Heaphy.
The houses are near the four Anzac St houses that featured in the first series of the show. The winning home - the house that sold for the most - went for $961,000 in a live auction that drew in more than one million viewers. The price was $157,000 above the reserve.
Brother and sister team Ben and Libby Crawford took home the profit made and an $80,000 prize.
Mediaworks has yet to say when the new season will go to air.
Taking precautions
*Take down the curtains and cover furniture and carpets with protective covering before removing the paint.
*Keep other people and pets away while you're working.
*Use a toxic dust respirator and wear a hair covering and protective clothing, including gloves and suitable footwear.
*Keep windows and doors closed if you are outside, to stop paint dust and flake getting inside.
*Wipe sanded surfaces and then vacuum. Collect as much of the dust and paint flakes as possible. Contact your local council for advice on where to dispose of it (don't burn it as this releases it into the atmosphere).
*Thoroughly wash your hands and face before eating or drinking.
*Change out of contaminated clothing before going anywhere.
Source: Consumer NZ