Independent film-makers turn to private investors to get their projects on to the screen.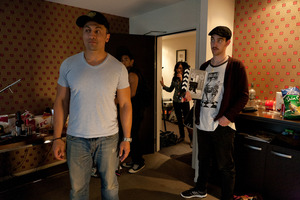 The creators of a new Kiwi crime thriller depicting graphic torture scenes have turned to private investors after struggling to secure funding from the Film Commission.
The Last Saint is the debut feature film by former Shortland Street star Rene Naufahu, who hopes the movie will have a similar impact to Once Were Warriors.
Sir Paul Holmes supported the project and it has so far secured $100,000 in private funding.
But the New Zealand Film Commission is still deciding whether to invest the $400,000 needed to complete the project.
Naufahu, who writes and directs the film, said it had been a "very challenging process" to persuade the right people the film would have an audience.
He filmed a three-minute promotional clip over three nights for $500 which, after being posted to Facebook with little fanfare, has attracted about 30,000 hits. It includes a memorable scene where a group of Tongan gangsters break into gospel harmonies while dishing out a vicious beating.
"The reaction has been humbling," said Naufahu.
He said the shortfall needed to film the movie "wouldn't cover a meal break for The Hobbit".
A few months before his death in February, Holmes came to a script reading and fell in love with the project, said Naufahu.
"That's one of my regrets, I wish he could have watched the film," said Naufahu.
The film's producer, Matthew Horrocks from Reservoir Films, said they had approached private investors after "challenges" securing taxpayer funding for the project.
He said this funding model could lead the way for other New Zealand films.
"Private investors are coming into the market with investments in the tens of thousands and it's not completely philanthropic. It takes it out of state control. It's really cool if there can be other players."
This would allow more artistic licence and better quality films, said Horrocks.
New Zealand film-making was littered with failures that had tried to be too commercial, he said.
"The more you try to be commercial, the more likely you are to fail. The ones that really work are the ones that are true to their integrity."
The Last Saint features established television actors Nicole Whippy and Calvin Tuteao alongside up-and-comer Beulah Koale and Rene's brother Joe Naufahu, who plays gang leader "Pinball". The film will feature a soundtrack with Six60 and P-Money.