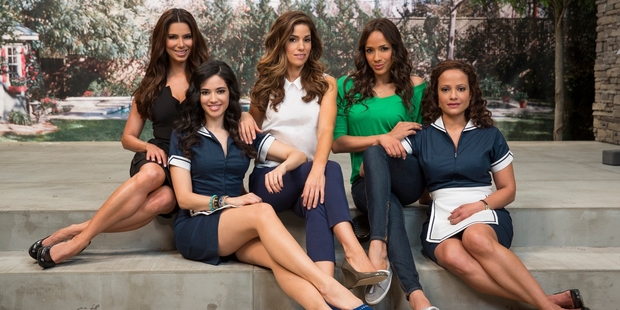 Delirious Callgirls may not be very far off. After Desperate Housewives, creator Marc Cherry came up with Devious Maids, (Wednesdays, TV2, 9.30pm), which is basically DH Part II.
If you're a fan of Part I, you should like this show, although the housewives here are cartoonishly evil and the heroes are the help.
It's adapted from a Mexican telenovela with Eva Longoria cheerleading as executive producer, so perhaps we shouldn't be surprised at how camp and vaguely righteous it's turned out. Evelyn Powell, the show's ice queen character, was devastated when her maid, Flora, was murdered: Who would clean up all the blood? The story was reported on page 43 of the paper, scoffed the maids. After all, a white girl would make the front.
"I'm late for a facial," was all the snooty Peri could muster when she found her maid, Rosie, crying over her son, who is stuck in Guadalajara.
Much has been made of the so-called stereotyping of the Latina maids. They're front and centre of a big-budget TV show only to do the dirty work. But the show clearly has something to say about their botoxed bosses of Beverly Hills, who are mostly portrayed as hysterical, vain, oversexed, selfish, unloving creatures.
The idea is we're meant to love to hate the housewives enough to egg on the maids to do something really awful to them.
That should make for a fun hit show - Downton Abbey meets Revenge. After all, the maids - Rosie, Zoila, Carmen and Marisol - are in the perfect position to snoop, exact revenge and hide naked in the grand piano. But they're not terribly devious so far.
That sentimental tone that eventually put me off Desperate Housewives tends to get in the way of a laugh. Judy Reyes, from Scrubs, plays the earnest Zoila who is trying to teach her pretty daughter, Valentina, that it is not appropriate to flirt with the teenage boy in the house.
Marisol, who is probably not a maid, is doing her own bit of snooping as it's her son who is the prime murder suspect. Rosie has a conflict over whether to tell her boss (Melrose Place's Grant Show), that his wife is cheating. The Samantha character appears to be Carmen, who wants to be a famous singer and reckons working for a famous pop star will get her there.
It's glossy, soapy, ridiculous stuff, the likes of which will make this show easy to dip in and out of. But Devious Maids seems to want to hold our hand through its grandly silly plots. Apparently, we're not smart enough to figure out when someone is up to no good, unless those familiar, creepy, plucked strings kick in.
That's a shame as much of the dialogue is amusing. Genevieve (played by soap actress Susan Lucci), might be mad on prescription meds. After finding Valentina crying in the kitchen, she asked if she was mooning over the landscaper. "I've got dibs," she added. "I've been priming that pump since the day he trimmed my hibiscus."
If only the show had more of that and less of the schmaltz I'd be less inclined to wait for Delirious Callgirls.
- TimeOut