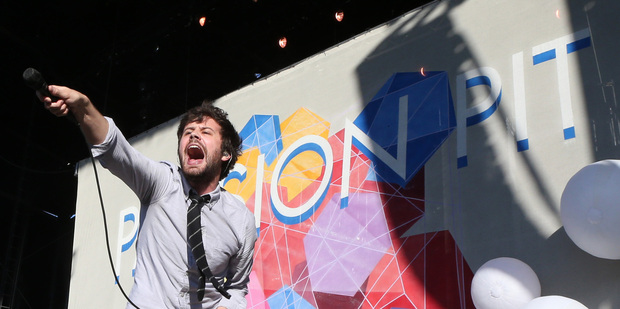 When it comes to his recent bipolar breakdown, Passion Pit front man Michael Angelakos has been uncomfortably open about how he nearly lost his band - and his life - to depression.
So it was a relief to see the sprightly singer bounding onto the Powerstation's stage and belting out the chirpy chorus to I'll Be Alright like a man without a care in the world.
Angelakos has an unusual singing style that's best described as an acquired taste: His searing falsetto soars high on record - but at previous New Zealand shows it often got lost amongst the band's many synth and keyboard riffs.
Those shows - at the 2010 Big Day Out, and later that same year in the same venue as tonight's performance - were also marred by poor sound and a lack of cohesion.
But Passion Pit were in sublime form tonight, belting through the relentless positivity of Carried Away and the synthy throb of The Reeling - with fans helping out on the catchy kindergarten chorus - like the seasoned festival performers they've become.
Sure, if you dig deeper there's a dark side to Angelakos' lyrics - the band's 2012 album Gossamer was based around his breakdown, and I'll Be Alright, a song aimed at an ex-lover, includes the line: "Why do I keep housing all this suffering?"
But it's the band's relentless positivity that shines through during live shows, from the footstomping charm of It's Not Right, to the beautifully bonkers chorus of Kingdom Come ("Princely orange peels," anyone?) and the hook of Constant Conversations, which has the best use of a "Woah-oh-oh-woah" singalong since Kings of Leon's Sex on Fire.
Angelakos also has plenty of production nous that makes you wonder why someone like Kanye West hasn't utilised his skills: Cry Like a Ghost has the grunty throb of a dubstep track backing it, while Constant Conversations and stunning set closer Sleepyhead use sped-up female vocal samples to excellent effect.
But the night's centrepiece was Take a Walk, a supercharged synth-fuelled single that turned into the kind of beers-in-the-air anthem you could imagine seeing in the New Year at an open air festival like Rhythm & Vines.
Angelakos's falsetto still gets a little lost during the show's louder moments - a fact particularly noticeable during the jackhammer synths and powerhouse drum kick of Mirrored Sea. And at just over an hour, it was one of the shorter shows the Powerstation has seen.
But Passion Pit concerts are a bit like candy: Too much and you'd get toothache. The grins on the everyone's faces - including Angelakos' - after the show said it all: This was pure electro-pop perfection, delivered with heart, soul and - yep - plenty of passion.
Passion Pit
Where: The Powerstation, Auckland
When: Thursday, July 25
Follow @nzherald_ent on Twitter for up-to-the-minute entertainment news, videos and reviews.
- nzherald.co.nz