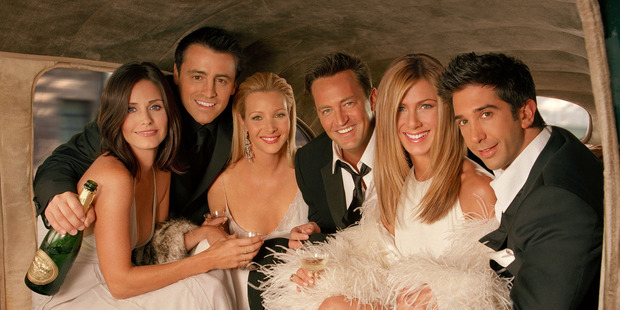 One more time for the cheap seats...
The Friends cast members are never getting back together (like, ever) for a big screen outing, according to Lisa Kudrow.
While fans continue to pine for a revival of the beloved TV sitcom, former Friends star Kudrow has offered up what sounds like the final word on those unending reunion rumours.
Kudrow, who played kooky Phoebe Buffay for the show's 10 seasons, recently talked to CNN about her hit show Web Therapy, and addressed recent speculation that a ten-year anniversary reunion - be it a one-off episode or movie - was slated for next year.
Friends took a bow in May of 2004, and featured Matt LeBlanc, Courteney Cox, Matthew Perry, Jennifer Aniston, David Schwimmer and Kudrow.
"I knew there wasn't ever a movie. There was never a Friends movie. Ever," she said. "So I've always known it's not happening."
Back in April, rumours of a reunion sent the internet into a flap. They were, of course, later proven to be false.
Chimed the show's co-creator Marta Kauffman to E! Online at the time: "I'm going to clear this up right now. No! Not happening."
She went on to explain, "Friends was about that time in your life when your friends are your family and once you have a family, there's no need anymore.
"I'd rather people go, 'Oh, please! Please!' than 'I can't believe you did that. It was horrible.'"
Kudrow admits that even she was momentarily duped by an online graphic which teased a regrouping of the cast.
She said: "With this last rumour someone came up with a great graphic with the couch and it looked like a real teaser and I went, 'Wait!' And then someone came up with a fake story and got some publication to buy the lie that there was going to be a reunion, so I saw on Twitter people were posting this article that NBC was really going to do it.
"And I went, 'Wait a minute, was I not invited? Oh my God, maybe there is one and I wasn't asked to do it'. I even had a moment where I believed it because everything around it looked real. It was a good setup."
Putting the rumours to rest, she added: "The creators have put them to rest. NBC has. I don't know who else needs to say, 'It's really not happening.'"
The 49-year-old actress recently said that she feels "too old" for a Friends reunion.
"I'm too old. I wouldn't even have an interest in seeing what those people are doing ten years later as parents that have to be responsible," Kudrow told HuffPost Live.
"It would be so different that it wouldn't be Friends anymore.
"Of course I would do it if everyone wanted to do it. And everyone isn't the six of us - it's David Crane and Marta Kauffman who created the show."
Former Friends co-star Matthew Perry also harpooned the idea of a reunion recently.
"I don't think so. It would be terrible to do something and have it not be good," he told ABC News.
"It was so terrific. If we did a movie and it sucked, then it would, you know, blemish it."
NOTABLE NUGGETS
And finally...
* "This is not true" - Ryan Gosling's rep denies buzz that the actor is circling a role in the new Star Wars movies; per a report in Latino Review, Zac Efron has been touted as another possible addition to the universe. No word as yet from Efron's rep on the report.
* Watch: Now this is how you videobomb a live news report.
* Anne Hathaway memoir got rejected? Please.
* David Beckham strips, and checks himself out in new fragrance ad.
* Come to think of it, yes, Renee Zellweger has been off the radar for a wee while.
* American Idol rejects sue producers for discrimination. They want a cool $25 million each.
* Beth Ditto confirms Hawaii nuptials, shares wedding snap.
* Amanda Bynes' parents headed to court to request a conservatorship.
* Keeping Up With The Kardashians coming to an end in 2015?
* "The sheets we go through..." - Crikey, it's clearly a riot over at casa Hugh Jackman when the actor's channelling clawed hero Wolverine.
Meanwhile, while you're down here, feast your peepers on this silly supercut of Jackman screaming as Wolverine. Cords of steel! Make sure you watch 'till the very end...
(Hat tip to Vulture)
- Rumour Has It