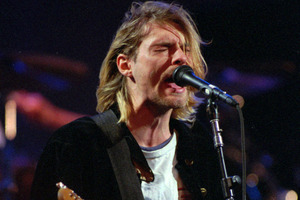 A Virginia Polytechnic student has stunned record label Sub Pop by requesting a video of support by rock act Nirvana.
Nirvana were grunge icons but ceased activities in 1994 when front man Kurt Cobain died in a Seattle garage from gunshot wounds.
The Seattle record label posted the letter from the student on its website.
They wrote: "Earlier today in the Sub Pop mailbag, we received an enthusiastic message from a college student running for homecoming queen. She asked for a video affirming support from our one time recording artists, Nirvana, in order to aid her campaign in becoming homecoming queen."
The letter requested the band - which also featured Dave Grohl on drums and Krist Novoselic on bass - supply the student with a "quick video" because "Virginia Tech loves Nirvana (and) we'd love to have her in our video" (sic).
It asked the band to say: "What's up Virginia Tech? This is Nirvana! Just wanted to wish you guys a Happy Homecoming Week and good luck at the game this Saturday.
"LET'S GO HOAGIES!"
It said the video would be shared amongst its 30,000 students, and on YouTube, Twitter and Facebook.
- nzherald.co.nz