Five TV shows that will keep couch potatoes entertained over the coming week.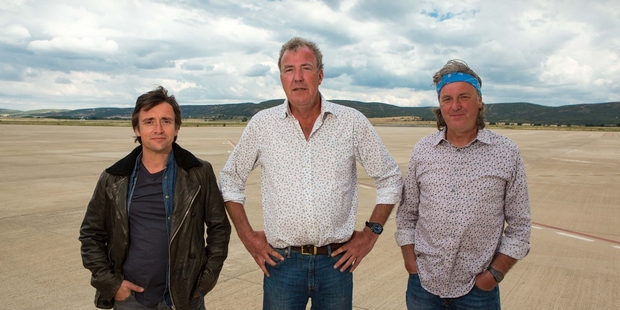 Pick of the week: Top Gear
So this is Jeremy Clarkson's top three escapades during his trip to New Zealand earlier this year to film for Top Gear. Writing off a rental car, crashing into a tractor as he drove flat out on the snaking gravel roads of Coromandel Peninsula, and going way over the speed limit at least once (but probably many more times).
The Top Gear frontman happily admitted to going 120km/h on Auckland's Northern Motorway as he tried to make up lost time in a race against James May aboard an America's Cup AC45 - an Oracle boat captained by champion Brit sailor Sir Ben Ainslie - off Northland's east coast.
But this is Top Gear, people, and anything goes, especially with Clarkson on a mission to "uphold the honour of coal, gas and oil, the cornerstone of civilisation".
The trip to New Zealand - "the prettiest country in the world" - takes up a good chunk of the first episode of the new series.
The race takes them from the tip of Coromandel to the top of the North Island with Clarkson covering 660km in his humble blue Toyota Corolla and May's more direct route in the "fastest production sailing boat in the world" at just 350km.
"Jeremy hasn't got a chance," reckons May. Though the reality is far different on board "HMS Misery" as he clings on desperately with waves constantly slapping his face.
Clarkson is so far behind that he surely can't overtake May.
"What I really need is a road with no corners - and in this amazing country that's exactly what I found," he says as he hits Ninety Mile Beach headed for Cape Reinga.
It's the last mad dash in what turns out to be a very close race.
The driving dogs segment Top Gear also filmed in New Zealand doesn't feature in the first episode and hasn't figured yet in the British broadcast of the series, which started last month.
Also in the first show, Richard Hammond, who didn't make the trip here, test drives three new hatchbacks, and a group of stars - well, AC/DC's Brian Johnson, Joss Stone and some actor types - gather to do battle in the season's reasonably priced car decider.
Elsewhere in the upcoming series, Hammond searches for the world's best taxi, the trio take their "strong British pounds to the cash-strapped people of Spain" and build their own street circuit in Madrid's deserted developments, and movie director Ron Howard - aka Richie Cunningham from Happy Days - and Sherlock himself, Benedict Cumberbatch, try their hands on the track.
When: 7.30pm, Sunday
Where: Prime
What: Revving it up in New Zealand
Drama pick: The Suspicions of Mr Whicher
This feature-length special is all dark and cold Victorian shadows, family scandals, jealous children, unhappy stepmothers, and lightly shrouded insanity, as Inspector Jonathan Whicher, a rising talent at the newly formed Scotland Yard, is sent to an eerie English village to investigate the murder of a 3-year-old.
Inspector Whicher, played by Paddy Considine - known for playing intense and disturbed characters in TV and films and who is currently appearing in The World's End - has his suspicions about the half-sister of the young boy. She seems jealous of her father's (Peter Capaldi) obsession with the child but the inspector struggles to prove his case, with the local constabulary interfering, and the intricacies of the servants' loyalties difficult to unravel.
When: Saturday, 9.45pm
Where: TV One
What: The beginnings of Scotland Yard
Adventure pick: Harry's Arctic Heroes
In 2011, Prince Harry signed up to help the charity Walking with the Wounded by joining a team of four soldiers on an ambitious 260km trek to the North Pole. The four Afghanistan veterans had all suffered debilitating injuries but that didn't stop them.
This two-part series follows them as they face a challenge considered difficult even by able-bodied explorers. With no back-up vehicles, they pull sledges over the inhospitable terrain. John Hurt narrates their experience, blending the tensions and doubts with the stunning scenery and everyday triumphs.
Harry has now joined a second Walking with the Wounded expedition to take on the South Pole this November. He'll be joined by actor Dominic West.
When: Friday, 7.30pm
Where: Prime
What: Prince Harry's icy journey
Crime pick: Thorne
English actor David Morrissey (who plays the governor in The Walking Dead) stars as Detective Inspector Tom Thorne in this new crime thriller adapted from the bestselling novel by Mark Billingham.
Thorne, a determined, hardened officer is drawn into an investigation of a series of unusual and sinister attacks leading to the death of three young women. As he hunts the mysterious serial killer, a fourth victim is found - except she's not dead. Alison Willetts is found in an almost catatonic state, having survived a stroke deliberately induced by the killer.
Although the police believe that leaving Alison alive was the killer's mistake, Thorne begins to suspect it was the first three deaths which were unintentional.
When: Sunday, 8.45pm
Where: Prime
What: The case of an accidental serial killer
Comedy pick: Super City
The versatile Madeleine Sami returns to our screens this week for a second series of Super City, the hilarious satire about the wide-ranging citizenry of Auckland, neatly skewering stereotypes and drawing laughs from their familiarity.
In season one we had homeless girl Georgie, cab driver Azeem, cheerleader Pasha, personal trainer Jo, and Remuera arts patron Linda.
In season two we get to meet four new crazy screwballs: 26-year-old Ofa is an unorthodox case manager full of attitude for Winz; Levi is a naive Niuean guy who desperately wants to be a star rugby player but keeps getting distracted by his hair; 60-something Ray balances his panelbeating business with supporting his body-builder wife; and middle-aged Linda tries to flirt her way to the top of the covers band scene.
When: Friday, 10pm
Where: TV3
What: Madeleine Sami's new comedy quartet
Follow @nzherald_ent on Twitter for all the latest entertainment news.
- TimeOut