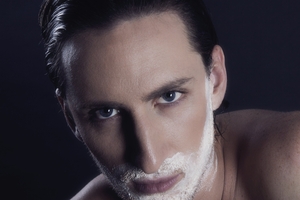 A very strange man making very strange music. That's what the debut album by this rogue Australian music-maker is all about.
The 27-year-old has been in several bands over the years and had a hand in composing some of the score to Jane Campion's TV series, Top of the Lake.
But his solo project is by far his most high-profile musical outlet. And it's not hard to see why because, while it's not for the faint-hearted, it's strikingly original and intense music.
Much like the album's cover photo, where Callinan looks like he is trying to peel his face off, it's what many of the beautifully caustic songs here sound like.
The title track is like lyrical paint stripper, as he implores you to "push, rip, taste, touch, work your body", and the song's primitive music is menacingly potent in its understated way. But then suddenly it kicks into a psychotic sounding Relax by Frankie Goes to Hollywood.
But for all the industrial clanging of Way II War, and Callinan's merciless and oppressive vocal delivery, there are more traditional singer-songwriter songs such as the Echo and the Bunnymen-meets-Pulp-like Victoria M and the dreamy fruitiness of Chardonnay Sean, which somehow don't sound out of place among the heavier brain-rattling tracks.
Stars: 4/5
Verdict: Music that will peel off your face
Click here to buy Embracism by Kirin J. Callinan.
Follow @nzherald_ent on Twitter for all the latest entertainment news.
- TimeOut