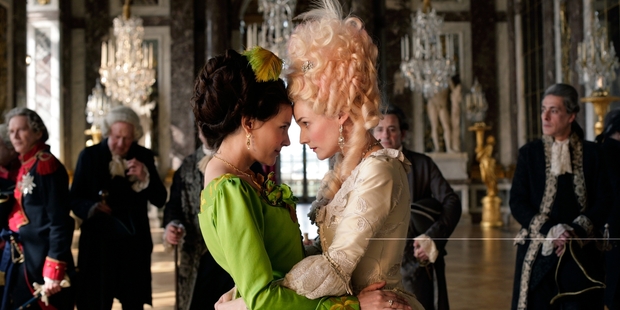 Bosoms heave in exquisite costumes at Versailles as Marie Antoinette and her household contemplate their future in the last days leading to the French Revolution.
From the novel by Chantal Thomas, through veteran director Benoit Jacquot, Farewell My Queen takes place almost entirely within the gilded halls of Versailles over four days in July 1789, with the story told through the eyes of the Queen's Reader, Sidonie (Seydoux), a mysterious young woman smitten with the sovereign.
Through Sidonie we're taken back and forth between the lavish rooms of the nobles and the back corridors of their servants. The aristocracy and servant classes are equally anxious as they hear of the storming of the Bastille and the unrest in Paris and the countryside. We see how Marie Antoinette, played with just the right mix of despair, frivolity and intelligence by Diane Kruger, reacts to rejection by the population.
When a pamphlet circulates at Versailles listing the enemies of the revolution, who are to be beheaded, Marie Antoinette and her husband top the list.
It's the third name - the Queen's lover and confidant, Madame Gabrielle de Polignac - who provides the intrigue for Jacquot's sensual drama. Gabrielle has few qualms as she abandons the Queen to save herself. She's not alone and the politics and machinations of court life are laid bare as the conflict between loyalty and self-preservation plays out. With information scarce, the fear and uncertainty is pervasive but exhibited with subtle intensity.
It may seem a restrained and pretty, uneventful even, portrayal of the start of a revolution, but it's the revelation of Marie Antoinette's affection for another woman, and the twist of how Sidonie fits into this love affair, that adds a jolt of intrigue.
Filmed at Versailles, Farewell My Queen benefits by looking and feeling authentic, and also has the Downton Abbey effect where seeing the levels of the household gives puts a wider perspective on historic events. A handsome historical piece, watching Sidonie hope her mistress will take her into her confidence also delivers a little heart ... cue those heaving bosoms.
Stars: 4/5
Cast: Lea Seydoux, Diane Kruger, Virginie Ledoyen
Director: Benoit Jacquot
Running time: 100 mins
Rating: M (contains nudity)
Verdict: An exercise in subtlety, sensuality and history
Follow @nzherald_ent on Twitter for all the latest entertainment news.
- TimeOut