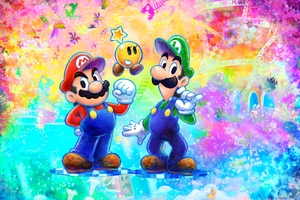 There are few people left on the planet who haven't spent time bashing boxes, collecting coins and defeating dragons in one version or another of Super Mario Bros.
Mario has been ruling Nintendo platform games since 1985, a near 30-year reign that has taken in addictive arcade action, sporting challenges, puzzle-solving brain twisters and multiplayer adventures.
Mario & Luigi: Dream Team Bros is the fourth in the series in which Mario teams up with his dozy brother, Luigi, for a game that combines most of Mario's many guises.
It mixes arcade fun with role-playing antics to deliver a fun, simple and colourful adventure game that's probably best enjoyed with a 7-year-old by your side.
Gamers take control of Mario as he heads on holiday to Pi'illo Island, but quickly finds himself on a mission to rescue Princess Peach from the evil king Antasma.
Yep, you won't struggle to follow the storyline, some of the game's ratty dialogue can grow tiresome, and the tutorials for basic gameplay elements seem endless. But it's worth sticking with: gameplay gets inventive with island exploring mixed up with quizzes, turn-based attack sequences, meet-and-greets and co-op play, which involves taking control of Luigi's dreams while he sleeps for rescue missions. Then there's plenty of box bashing. After all, it wouldn't be a Mario game without it.
Stars: 3.5/5
Platform: Nintendo 3DS
Rated: PG
Follow @nzherald_ent on Twitter for all the latest entertainment news.
- TimeOut