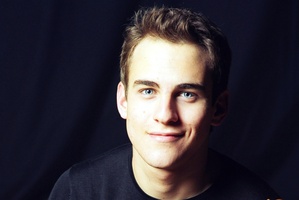 Some in the audience had been expertly primed in Brian Foster's early evening lecture, but Chamber Music New Zealand's Einstein's Universe concert on Monday night was a stimulating experience in itself, regardless of any connections there may have been with the man who gave us the Theory of Relativity.
Two of Czech composer Bohuslav Martinu's Madrigal Stanzas had a blithe fluency. Violinist Jack Liebeck and pianist Stephen De Pledge rippled through the first, and caught the jaunty humour of the second - so well that one wished the remaining three had been programmed.
The shapely opening of a spirited Mozart E minor Sonata took on a distinctly Jewish strain in the context of this concert; as did the second movement's principal theme - a minuet by name, but a song of melancholy in performance.
Ernest Bloch's Baal Shem revealed the duo fully-fired, saluting a composer who felt little need to rein in his musical energies when emotional fervour took over.
Samuel Holloway's new commission, Matter, was a good deal cooler. Liebeck conducted a rigorous four beats to the bar while De Pledge and three string players (Victoria Sayles alongside Julia and Andrew Joyce) explored what was introduced as a world of organised chaos.
The textural compression over an eight-minute trajectory was hypnotically effective, dominated by scattered piano patterns, flecked with mere whispers from the strings.
This was music to immerse oneself in, especially when dynamics dropped to the threshold of audibility and the subtle combination of e-bow, keyboard resonance and double pianissimo strings tested the less than intimate venue.
After interval, Brahms' F minor Piano Quintet provided more robust fare, even if stamina waned slightly in the mood shifts of its finale.
Einstein must have enjoyed exhilarating evenings playing with his celebrated musical friends. One felt the same during this quintet, privileged to enjoy Liebeck and his colleagues totally immersed in and alert to the almost conversational joys of chamber music.
Delights were many - Liebeck, De Pledge and Andrew Joyce's beguilingly tuneful welcome was one, Julia Joyce, instigating a rather cheeky fugue in the scherzo, another.
Follow @nzherald_ent on Twitter for all the latest entertainment news.