Few laughs in new show while Almighty Johnsons just confusing.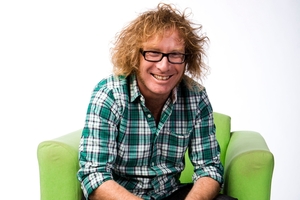 It was hard to have high hopes for a show called Best Bits, TV One's new attempt to raise a few laughs from the Friday night stay-at-home crowd. With that title, it arrived sounding already defeated, its host and guests just a little embarrassed to be there.
Hell, I felt slightly embarrassed just watching it, though at least it didn't look like it was wasting an awful lot of taxpayer or anyone else's money in its rather desperate attempts to be funny.
All the poor thing had was a modest set, a sparse and little-seen studio audience, a laugh track and a bunch of brief television clips from the week that was, shown out of context with the aim of raising a few chortles.
Oh, and Best Bits has Te Radar, of course, taking on a presenting job that even Paul Henry might have thought twice about. Still, Radar gave it his best shot, sideburns jiggling with mirth as he bounced though the week's supposed best and worst TV moments, possibly helping provide some new ones in the process.
Laugh, I thought I'd never start, though actually I did once or twice. Or maybe I just gasped.
There was certainly one truly outstanding rediscovered moment with belaboured Labour leader David Shearer declaring, to God knows what question on TV3's The Nation show, "I didn't put my hard arse on the line and show it, but behind the scenes I have".
That line could become legend.
The guests on last Friday's first episode were a little less legendary - Back of the Y star Matt Heath and TVNZ U presenter and comic Rose Matafeo, whose habit of disregarding the camera gave her a disconnected air as she babbled on about her favourite TV soaps.
Heath at least brought a little shock value when he shared a clip from a show called Doomsday Preppers, starring a low-rent looking bloke drinking his own pee. "It's actually not bad," he declared, going back for a second helping.
Shortland Street old-timer Blair Strang came in for the show's celebrity roast, mostly consisting of looking at old clips from his not very interesting career and chatting about the dangers of doing the hot love scenes on his only other notable show, Nothing Trivial.
"Sometimes you get a stiffy," he admitted. "You say sorry."
In other foolishness, I've been throwing myself at The Almighty Johnsons (TV3, 8.30pm, Thursdays) trying, with little success, to understand this rather odd local dramedy, which is now, amazingly, in its third series.
It's a wondrous thing to see such high production values, lovely camera work and editing, stalwart acting and great music delivered to such foolishness.
It's full of blokes called Axl and Anders and it appears to be built on the sturdy premise of ancient Norse gods coming to earth as Westies in present-day Auckland.
The gods - all brothers - seemed to have major unresolved issues with each other; there's a lot of drinking and sex and random male nudity.
I've watched the first half of the new series in wonder so far, though I've barely a clue what it's all about.