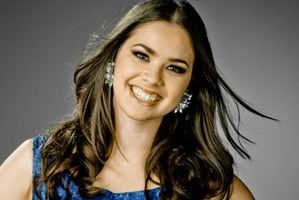 Jackie Thomas was eliminated in the early rounds of The X Factor, but a social media campaign saw her returned to the show. Now she's won it.
The 22-year-old Greymouth resident, who had wowed judges and fans with her version of Bon Iver's Skinny Love, won the competition after a tense two-hour finale on TV3 tonight.
She beat Whenua Patuwai, who came second, and Benny Tipene, who was eliminated earlier in the evening.
"I can't believe it ... I'm shaking," said a tearful Thomas after the announcement.
Her mentor, judge Daniel Bedingfield, said Thomas won because she was a "soulful singer".
"She sounds incredible, her voice is amazing ... you believe it when she sings."
Thomas came first in seven of 10 rounds of competition thanks to public votes.
She had been eliminated over criticism of her nerves, but a strong public reaction and social media campaign saw her returned to the show.
"When I got brought back, I was really low on confidence because obviously I'd got cut and all the other girls had done so well at bootcamp so I was just feeling a bit down," she told the Herald.

"But as soon as the live shows started, it got better and it got easier. And as soon as New Zealand started voting for me, the confidence all came back and I think that's been my secret to success."
Thomas had earned praise from critics because of her powerhouse voice.
TimeOut music critic Scott Kara said she had "the most consistently good voice of the remaining three".
"She may come across as a shy girl from Greymouth, but you sense she's one strong chick beneath it all," he said.
Fellow critic Lydia Jenkin said she could become the country's next Brooke Fraser.
"She's not really a sassy, sexy pop artist, but she's very family-friendly," she said.
Thomas' self-titled debut album will be released on August 9, with her first single It's Worth It out now.
Earlier, Benny Tipene was eliminated at the half-way point of the finale.
Tipene had sung Outkast's Hey Ya! to rave reviews, but it wasn't enough to sway the public and progress to the show's final round.
"I had no idea how far I'd come in this competition, but the experience has been amazing," Tipene said after his elimination.
"I've just had so much fun."
- nzherald.co.nz