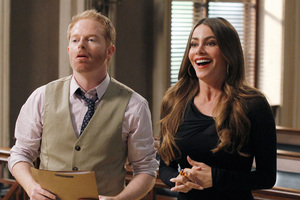 Modern Family star Jesse Tyler Ferguson has wed his longtime partner Justin Mikita in New York.
The TV actor's co-stars Julie Bowen and Ty Burrell joined celebrity couple Rebecca Romijn and Jerry O'Connell and Zachary Quinto at the nuptials on Saturday.
Ferguson's Modern Family partner Eric Stonestreet was also among the guests, according to Us Weekly magazine.
The newlyweds, who are the co-owners of the TieTheKnot bow-tie line, have been dating for almost two years. Ferguson proposed in Mexico in September.
Ferguson and MIkita are set to be guests on board an Air New Zealand flight during which a same-sex couple will marry.
"Jesse has been deeply committed to campaigning for marriage equality and the fact that he is prepared to travel from the United States to be here demonstrates the historic nature of this event," Air NZ spokeswoman Jodi Williams said,
Ferguson said he and Mikita were thrilled to be taking part.
"After launching Tie The Knot - our bowtie campaign for marriage equality in the US - it is clear that the journey towards marriage, both in the US and beyond, means so much to us.
"We cannot wait to celebrate this joyous occasion."
- WENN with nzherald.co.nz