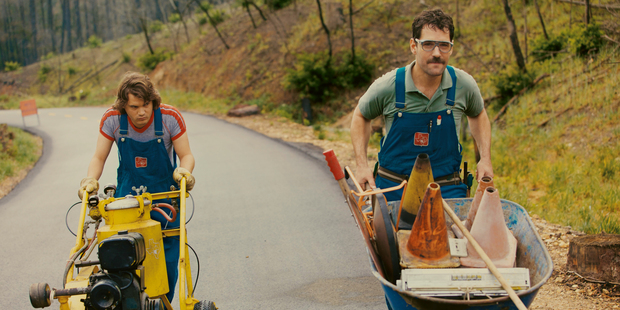 After a devastating forest fire, two young road workers spend the summer away from their city lives to paint yellow lines down rural Texan roads.
From director David Gordon Green (All the Real Girls, Pineapple Express), Prince Avalanche is an American adaptation of the 2011 Icelandic movie Either Way.
This subtle, quirky film is a comedic take on solitude, loneliness, self-discovery and friendship.
Paul Rudd (The Perks of Being a Wallflower) and Emile Hirsch (Into the Wild) give great performances as two guys who could not be less alike.
Alvin (Rudd) revels in being out in the wilderness, happy to live life alone, with not much more than a fishing rod and a tent. Lance (Hirsch) is a knuckle-headed party-loving dude who's main goal in life is to "get the little man squeezed".
The two characters never quite see eye-to-eye, resulting in more than a few hilarious and absurd arguments.
After an alcohol fuelled rampage, thanks to booze from an eccentric truck driver, Lance and Alvin begin to appreciate each other's differences and come to learn from one another.
This film can become a tad monotonous at times, perhaps as a way to get the audience to truly appreciate the silence and wonder of being in nature, or to help "reap the rewards of solitude" as Rudd's character puts it. It's also a very small story, being completely confined to the forest or the roadside, with only a handful of actors, making room for Rudd and Hirsch to go all out with their characters.
With beautiful and interesting cinematography Prince Avalanche manages to put you out in the middle of nowhere with Alvin and Lance and their dysfunctional relationship. Not to mention, Paul Rudd's '80s moustache is worth the price of the ticket.
Stars: 3.5/5
Director: David Gordon Green
Cast: Paul Rudd, Emile Hirsch
Running time: 90min
Rating: M
For more showings of Prince Avalanche check out nziff.co.nz.
Follow @nzherald_ent on Twitter for all the latest entertainment news.