Cool indie kids now a big-stadium success, finds Paula Yeoman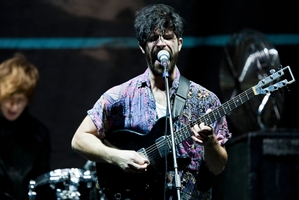 Foals' guitarist Jimmy Smith has two lasting memories of his first visit to New Zealand in early 2011.
"We went to Waiheke Island and our tour manager forgot to put on suncream. He got the worst sunburn I have ever seen in my life," he laughs. "And, I messed up a song, one that I wrote!" he says of the band's headlining performance at that year's St Jerome Laneway Festival. "For some reason I forgot how to play the chorus. I think I'd had too many beers."
But he needn't worry. All is forgiven. Because since then, Foals have released a third album, the cracking 11-track Holy Fire, which has taken the Oxford quintet from cool indie kids to a full-on stadium success.
The record's been out since early this year, but Smith says the band are still reeling from the positive response. "It's impossible to know how an album is going to go down and you always assume the worst that everyone's going to hate it so it's been pretty mind blowing."
Holy Fire's bold and epic sound, combined with the raw energy of a band at their peak, is proving a winner at some of the biggest festivals on the planet. "It's going down really, really well, better than any of the other ones, which is weird, because it normally takes a long time for the new songs to settle in and become favourites."
Recent performances include Britain's legendary Glastonbury Festival. "It is a big deal to play there. I used to go to Glastonbury before I was in the band. It's an amazing place," says Smith. "I don't know whether playing it now has taken away some of the charm, you know seeing the other side of the fence, but you always have the best show there. The crowds are insane."
Smith says new tracks Inhaler and My Number are the biggest crowd-pleasers. "The whole place goes ballistic every time we play them. It's fricking awesome."
It bodes well for Kiwi fans who have been waiting more than two years for the Foals' return to Auckland, when they play a one-off show at the Town Hall in a few months.
Foals play the Town Hall in Auckland on Saturday, October 5. Tickets on sale now.