Martin Clunes plays a leader with a past, he tells Nick Grant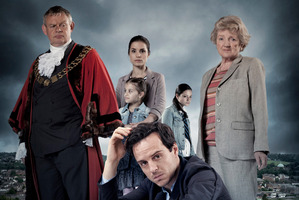 The presence of Martin Clunes in the mystery-drama mini-series The Town is apparently a testament to the positive power of pouting.
"After we did the last season of Doc Martin," recalls the actor, "ITV, which makes the series, asked if I'd like to do another season and I said, 'Yeah, of course, I would. But I'd be sad if it was the next thing I did.' My sulk, such as it was, seemed to filter through and quite quickly I'd received the script for The Town."
Clunes says he's happy to do Doc Martin, which he co-created, every other year but "I am first and foremost a character actor and thrive on trying to portray different characters".
The fact The Town didn't involve playing a socially awkward doctor was therefore a big plus, but not the only one.
"I loved the lyrical nature of the writing, and I also liked the idea of playing a slightly wounded leader of a small community."
The mayor of fictional Renton, Len Robson is a functional alcoholic who is nonetheless a master of "old-fashioned manipulation of circumstance. You get the sense that with a few degrees of separation he could touch most people in that town. It appealed to me, playing someone with that stature."
Also appealing was the script's atmosphere of authenticity, something Clunes credits to writer Mike Bartlett basing the community on his hometown of Abingdon. The sense of realism was further reinforced by the production filming in High Wycombe, where director Colin Teague grew up.
"The pub with the sticky carpet in the series was the pub our director was thrown out of as a youth," Clunes laughs, "so there were very attractive, very helpful resonances, which was nice."
In conversation Clunes, who shot to fame in the early 90s as laddish yet gentle Gary in Men Behaving Badly, comes across like a conflation of his various roles' more positive traits: quietly avuncular, quick to chuckle, a wee bit baffled, essentially kind and decent.
He professes to have "really enjoyed the actor-for-hire status" when working on The Town, relishing the opportunity to "jam with a different set of musicians, to use a wanky analogy".
He clearly took an interest in other aspects of the production as well, commenting knowledgeably on the quality of the cinematography ("I think it's really nicely shot. David Luther, the director of photography, didn't fall into the trap of lazy lighting; you can see everybody's eyes in it") and bemoaning the rise of digital cameras ("there's something about film going through a camera that focuses the mind, whereas with digital the crew's always going, 'oh hang on, hang on, hang on!', which is off-putting for an actor when you're about to start crying").
He's generous in praising his cast-mates' work, particularly that of lead Andrew Scott, who won a BAFTA last year for his live-wire performance as Moriarty in Sherlock. In The Town he plays a bereaved son determined to solve the mystery of his parents' death.
"Andrew is one of the most exciting actors on the telly at the moment, just amazing - I loved watching him in this," enthuses Clunes.
"And Avigail Tlalim, who plays Andrew's younger sister and had never done anything before, is just extraordinary - I can't wait to see what she does next."
As to what the future holds for Clunes, he's happily uncertain.
"I sort of self-consciously try not to self-consciously make plans," he laughs softly, "because I think that way trouble lies."


The three-part series The Town debuts on Vibe this Tuesday at 9.30pm.