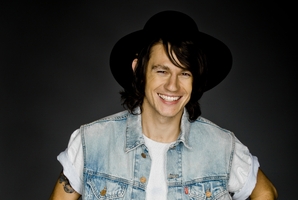 No matter what the result on The X Factor New Zealand on Monday night, Benny Tipene plans to repay the support of the thousands of fans who got him there - but he has one last favour to ask.
"Just vote like crazy. Enjoy the show ... and thanks heaps for all the support. It sounds really cliched, but I actually appreciate it.
"There's a lot of money that goes into the voting ... and I'll be doing a tour of New Zealand soon, so I'll give it back to you by making the tickets cheap."
Tipene, 22, flew back to Auckland last night to prepare for Sunday night's X Factor final, after earlier playing to hundreds of fans in his hometown, Palmerston North.
He played four songs to ticketholders, and then performed to crowds who had gathered outside.
"The cheer was amazing, it was kind of electrifying seeing that many people there to support me.
"Before I go on stage I'm going to think of that."
Tipene, Whenua Patuwai and Jackie Thomas will perform in The X Factor final on Sunday night, with public votes tallied and a winner of the talent quest announced on Monday.