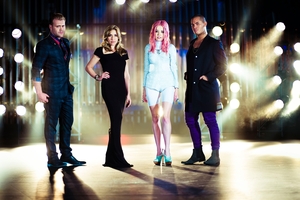 Stan Walker's contestants have long been out of the competition, but asked who will win the X Factor final on Monday night and he responds quickly: "Jackie will take it out".
He says he doesn't know who will win, but his money is on 22-year-old Jackie Thomas from Greymouth. "She's a dark horse. It's anyone's game, but I think Jackie will win."
But he adds: "If I was her mentor, she would have been given better song choices."
That's a dig at Thomas' mentor Daniel Bedingfield, a judge on the X Factor panel, alongside Walker, Ruby Frost and Mel Blatt.
Asked what he'll miss most when the show wraps and Bedingfield's name is not mentioned.
"I'll miss the crew. I'll miss Mel. She's my bro. We're yin and yang. She's awesome as.
I'll miss my contestants, and of course Ruby, she's great".
He says Bedingfield "is crazier in person than he appears on the show". Surely not.
"It's true. Sometimes I can't handle Daniel. I need a break from him. The thing with Daniel is he's crazy, but he's talented. People get clouded by how he appears and what he says. His talent gets lost."
Asked if Kiwis don't understand New Zealand-born Bedingfield, Walker says: "Daniel wants to be a Kiwi. He's trying. But he's not. He's Pommy, man".
Walker, who grew up in Mt Maunganui before relocating to Queensland, is proud of his Kiwi roots. He is set to embark on a gruelling 23-show nationwide tour in September and October and says he can't wait to perform in places he's never visited, like Edgecumbe and Nelson.
"Oh man, it'll be full on. A show every day. But I'm excited. I can't wait. Being on stage, entertaining my fans, there's nothing better. That's the best part of the job."
Not so for Mel Blatt, who's the only judge not to take to the X Factor stage. Blatt, a former member of '90s girl group All Saints, told The Diary she's a "retired pop star" and has no desire to sing live. "It's not happening. It's in my contract that I don't have to perform."
Whether X Factor will return next year remains debatable. TV3's boss of television, Paul Maher, says no decision has yet been made.
Injured stars make their mark
Injured All Blacks Richard Kahui and Cory Jane are tipped as future stars of Sky Television, network sources say. Sky bosses are keen to sign them up on a permanent basis.
Kahui has been out of the Super rugby season with a shoulder injury and hopes to take up a two-year contract with the Toshiba club in Japan if fit. He's worked alongside Jane on Sky Sport rugby commentary with the build-up to the All Black and Super rugby matches, and college rugby on the Land Rover 1st XV show, plus Reunion on Sport 1.
"It's certainly put the cat among the pigeons with the incumbent stars, like Ian Jones and Jeff Wilson, who have to compete with Richie and Cory," said a well-informed insider.
Sky's director of sport Richard Last told The Diary he couldn't talk about employment matters. "I probably shouldn't say anything, but I can say Richie and Cory have been fantastic to work with and we'd look forward to working with them in the future."
Fiji wedding for councillor
More than 40 close friends and family flew to Fiji to attend the wedding of Auckland councillor Cameron Brewer and Kate Barry on Wednesday. The couple were married in a traditional service by a Fijian minister at the wedding chapel in the Sheraton Denarau resort. A reception followed on the lawn topped with a striking sunset. The bride wore a John Zimmerman gown and shoes by Jimmy Choo. The groom, who has dropped a few kilos on the running track, wore a tailored black suit and a Cheshire cat grin. The couple say they are "very, very happy" and return from paradise next week.
Jono and Ben caught semi-naked
Things are tight at TV3, with the network struggling in the grips of receivership. Too tight for comfort, evidently. Sports presenter Michelle Pickles busted Ben Boyce and Jono Pryor semi-naked in the lift at the network.
They were filming a skit for their show tonight (Jono and Ben at Ten) and re-enacted a scene from Shortland Street's 90-minute blockbuster. Pickles posted a pic to Twitter, leaving us with an indelible image of two puny white guys shielding their modesty. Think a reticent Mr Burns in a thong.
"We were playing lift roulette in our sports bras and g-strings," Pryor explained. Trevor Mallard took to Twitter to wonder whether "receivership now involves sharing clothes". And ignominy.
MP Twitter humour
Speaking of over-sharing, Twitter fiend Maurice Williamson flew to London via Emirates amid a heavy dose of effusive gushing about the airline. But it was his bragging barter with fellow Nat MP Tau Henare that drew the chortles.
Henare took to Twitter to post his rigid exercise schedule, which included "50 push ups, 50 pull ups and 50 floor wipes". Wiping the sweat from his weary jetsetter brow, Williamson shot back: "Meanwhile in Emirates First Class Lounge in Dubai I did 20 G&Ts, 14 Sav Blancs, 6 Black Russians, 7 Tequilas and 4 pints of lager." One-upmanship at its best.
Movie begging bowl out
A feature film starring Colin Moy called Orphans & Kingdoms has begun shooting on Waiheke Island and producer Fraser Brown and writer/director Paolo Rotondo (a local) are calling on the little island community to help pull it off.
The film, set over one night, tells the story of three runaway teenagers who break into an empty holiday home on Waiheke Island and are busted by the owner who unexpectedly arrives home.
The micro-budget movie, in association with Random Films and Flying Fish, received a funding grant from the NZ Film Commission's Escalator initiative. But more money is needed. A crowd-funding campaign on PledgeMe (www.helptheorphans.org) has been set up to help raise $20,000 for post-production.
Perhaps some of the island's more well-heeled and high-profile residents could contribute. Waiheke plays home to two prosperous knights, Sir Graham Henry and Sir Peter Leitch, and the affluent Spencer family. John Hawkesby, enjoying his $5.2 million TVNZ payout on the island in semi-retirement quaffing wine, could splurge a bob or two.
Follow @nzherald_ent on Twitter for all the latest entertainment news.