Anthony Powell spent nine winters in the frozen continent enduring many challenges to make his doco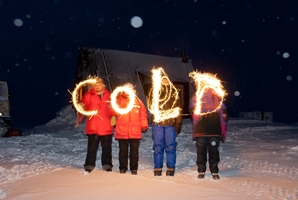 What started out as a photographic hobby while working in Antarctica is now an eagerly anticipated film at this year's New Zealand International Film Festival.
Antarctica: A Year on Ice is a documentary that reflects its name, but it is no March of the Penguins, unless you consider some of the 700 people who spend a winter on the southern continent as wildlife material.
There are spectacular vistas and penguins and seals, but the focus is more on those who choose to spend winters there - four months without the sun in frighteningly cold temperatures.
Anthony Powell started working in Antarctica as a satellite communications technician more than a decade ago. He even met and married his wife Christine there, and has spent nine winters in Antarctica.
It took him about 10 years to gather enough material for the documentary, which will premiere in Auckland this weekend.
He built his own rigs to withstand the cold but still normally breaks one camera a year.
"It's definitely hard on the mechanical side of the camera, once you get to about minus 20C you'll hear the shutter strain a little bit as the lubricants inside the camera start to stiffen up," he says.
"When the temperatures hit about minus 60C you start to run into mechanical problems ... sometimes the electronics that control the exposure start misbehaving ... the main thing is the batteries."
Most camera batteries will last just 10 minutes in the extreme cold, and Powell ended up using lead-acid batteries and a converter.
One camera, wrapped in three hats, was left out in the open to catch sky shots. However, he took it apart to find snow packed solid around the memory card compartment. Despite that the camera still worked after drying out.
That exercise ended up being a nine-second shot in the film.
Patience was needed and it took him up to five years to recapture initial low-quality shots at higher definition.
Powell eventually captured two million individual photos, including the time-lapse images, on top of video footage.
Once he started showing people his footage, he had no problem getting them involved, including Sir Peter Jackson's Park Road Post and the NZ Film Commission.
He found it relatively easy to get people to speak to the camera, talking about the "Antarctic stare", or Polar T3 syndrome which causes fatigue, short-term memory loss and zoning out with a "1000-mile" stare.
The syndrome is believed to be caused by a combination of lack of sunlight, lack of new stimulus, low vitamin D levels, and T3 hormone being diverted from the brain to the muscles.
Film festival preview
What: Antarctica: A Year On Ice
When: Civic, Sunday 11am and Tuesday 6.15pm
- AAP