The men behind a revealing documentary about the Russian protest band talk to Helen Barlow.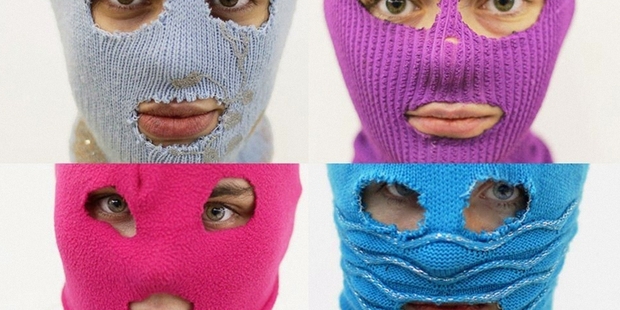 Pussy Riot, the Moscow art-punk band and feminist collective, formed in August 2011 on the day Vladimir Putin returned to Russian presidential politics.
The group is comprised of 11 rotating female members who wear colourful balaclavas, mini-dresses and neon tights as they perform in public sites and then post videos of their performances on YouTube.
In February last year, three of the ringleaders - Nadya Tolokonnikova, then 22, Masha Alyokhina, 24, and Katya Samutsevich, 24 - were arrested for attempting to perform their anti-Putin "punk prayer" in Moscow's Christ the Saviour Cathedral. They lasted 40 seconds before they were arrested for hooliganism, though Katya was eventually released because she didn't actually get to do anything.
Nadya and Masha will remain in prison until March next year.
Even if Russian Prime Minister Dmitry Medvedev advocates their release - celebrities including Madonna, Sting, Paul McCartney and Yoko Ono have expressed their support, while Amnesty International calls them "prisoners of conscience" - President Putin has so far refused, last year referring to their protest as an "orgy".
It didn't help that the cathedral the women targeted was symbolic as it had been blown up by Stalin and rebuilt with great national pride in the 1990s.
"That was the main insult," admits New York-based Russian Maxim Pozdorovkin who has co-directed the Sundance-lauded documentary Pussy Riot: A Punk Prayer.
"It brought back a lot of painful memories for people and I think that's why it was taken as an act of war."
"The issue, though, was that their act crossed over from the civic realm to a criminal realm," notes Mike Lerner, the film's British co-director.
"Outside the cathedral is a list of things you are not supposed to do, and it doesn't have to jump up and down in a ski mask, but you should have your arms covered." Most significantly, women are not allowed on the altar where the girls chose to play.
Still, all this can be covered in news reports. What makes Pussy Riot: A Punk Prayer so fascinating are the girls themselves.
Nadya, the main spokesperson for the group, recalls a young Angelina Jolie. In one incredible scene, Orthodox priests call her a "strong demon" and mention her thick lips as if they're sinful.
"From the first moment Nadya walks in, it's quite extraordinary," notes Lerner. "She just commands the room."
Above all, of course, she's a threat. "She's very stubborn," says Pozdorovkin. Ultimately, the young women subjects were so fascinating that the film-makers basically let the cameras roll.
"The great journey you go on with the film is discovering who these young women are and how different they are from each other, and how incredibly mature and articulate and morally sound they are," says Lerner.
What further encouraged the film-makers to make the film was the surprising ease with which the Russian authorities allowed them to film and their access to official trial footage. "The Russian news agency filmed it," Pozdorovkin explains. "They film all trials. We were really lucky to get that. I befriended the person. It was good because they weren't lazy about it, they actually got nice close-ups and stuff.
"They started rolling before the trial started so you had these wonderful moments with the women themselves. That was kind of a big transformative moment."
Documentary: Pussy Riot: A Punk Prayer
When: SkyCity Theatre, Wednesday, July 31, 1.45pm; Friday, August 2, 6.30pm
- TimeOut