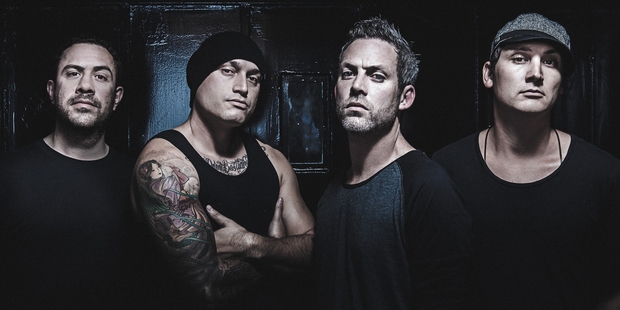 Blacklistt - the band formerly known as Blindspott - will release their debut album in September and then head out on a 12-date nationwide tour.
Following the demise of Blindspott in 2007, original members of the West Auckland band, guitarist Marcus Powell, DJ and keyboardist Karl Vilisini got together with bass player Gareth Fleming for a jam in 2010 and started writing new music.
Singer Damian Alexander was also soon back on board and, following two headlining performances at Wellington's Homegrown festival in 2011 and 2012, and a sold-out nationwide tour mid-last year, the band have been writing and recording their debut album. It will be released on September 13.
The tour kicks off with an all-ages show on September 28 at Zeal, in their old stomping ground of Henderson, and includes a show at the Powerstation on October 17.
Tickets go on sale on August 1 from eventfinder.co.nz, ticketmaster.co.nz and the venues.
Meanwhile, returning to New Zealand following his support slot for Ed Sheeran in March is acoustic folkie Passenger (real name Mike Rosenberg), who plays the Wellington Opera House on November 28, and the Powerstation in Auckland on November 29. The tour is in support of the British singer-songwriter's current album, All the Little Lights, which includes breakthrough single, Let Her Go. Tickets for the Auckland show on sale now from Ticketmaster.
Also returning is City and Colour, the musical alias of Dallas Green (formerly the mainman for hardcore band Alexisonfire), who is touring in December for his latest album The Hurry and the Harm. With a band that includes bass player Jack Lawrence, from the Raconteurs, Dead Weather and the Green Hornes, he plays The Civic in Auckland on December 16 and Wellington's St James Theatre on December 18.
And playing here for the first time are much-hyped Las Vegas indie rockers Imagine Dragons who play the Powerstation on October 15. Their debut album Night Visions brings together an eclectic and impressive variety of styles from dubstep and folk to hip-hop and pop. Tickets on sale now from Ticketmaster.
Follow @nzherald_ent on Twitter for all the latest entertainment news.
- TimeOut