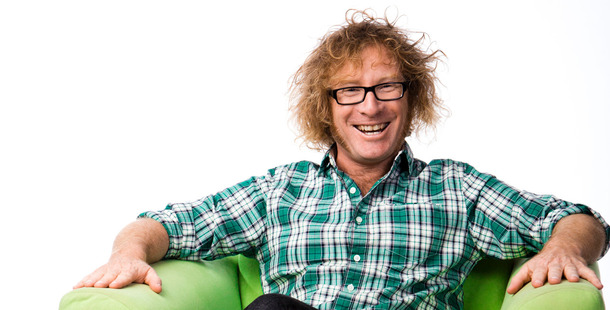 Tomorrow night sees the debut of a new local series that attempts to be a television show about television.
Its frontman is primetime regular Te Radar, in his first non-ecological presenting role in some time.
Instead, he will cast an eye over a week of television, and feed us the "best bits".
Created by production house The Downlow Concept (also the makers of 7Days), Best Bits will screen at 9pm, half an hour before 7Days on TV3 and opposite the high-rating Graham Norton Show.
"It will be a light-hearted look at the best and worst moments of TV in the previous week, and it's part clip show, part panel show" Radar explains.
The first section will have Radar playing 10-second to 30-second clips - moments of hilarity, embarrassment, bloopers - with rapid-fire commentary.
Then he'll ask two guests to join him to discuss a particular topic, then they'll bring on another TV personality to be roasted, lightly.
"We'll have a look back at their career and remind them of all the bits they've forgotten about, which we've tracked down in the archives."
Rumoured guests so far include Robyn Malcolm, Temuera Morrison, Al Brown and Blair Strang.
Given its Friday night timeslot and the involvement of The Downlow Concept, comparisons will be made to 7Days, but Radar assures us it's a different beast.
"On 7Days you've got two panels of comedians talking about current affairs. On Best Bits you've got me and no real comedians, because everyone else has got them! 7Days is more of a current affairs game show and this one isn't."
Best Bits will be less news-oriented and hopes to cover lesser-watched shows as well as the mainstream.
"This is a look at all of those programmes you love, along with many you don't know anything about. It's about uncovering things that might be on obscure channels at obscure times, or things you've missed. Because you can't watch all of the TV, and there's a lot of really great moments and characters out there."
He's particularly enamoured with some of the regional channel material at the moment.
"There are some cracker shows. We had a great bit the other day, with some sheep dog trial commentary, it was hilarious. I'm still laughing about it."
It's also intended to be somewhat more family friendly than 7Days.
"Hopefully still fairly satirical, but good family fun. I had a couple of clips from a programme called The Valleys the other day, and they were some of the best moments I've seen on TV in a long time, but they didn't quite fit, they were a bit inappropriate, so it's about finding the right tone.
"I think comedy is important for the whole family. It should work for everyone."
Follow @nzherald_ent on Twitter for all the latest entertainment news.
- TimeOut