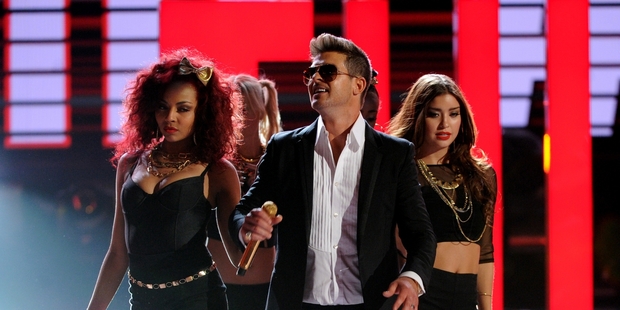 This album has a lot to live up to. Let's just say modern-day blue-eyed soul and R&B man Robin Thicke would have been silly to have called his new album anything but Blurred Lines, that's for sure.
The chart-topping single of the same name did everything a cracking good song should do - make people listen, incite scandal and sell records (the nudey rudey video alone met that criteria).
It's also a song that manages to be appealing pop radio fodder while still being a cool and - thanks mainly to producer Pharrell Williams - inventive song.
And the song sure shifted some units, being the biggest-selling single of the year so far, behind Daft Punk's Get Lucky (also featuring Williams). In New Zealand it held the No. 1 spot for 12 weeks.
So all that means it should help Thicke sell his album, even if there's nothing as good as that hit single.
It's just that there are no tracks that come close to having the personality and devilish cheek of Blurred Lines.
It does have its moments. There's the zany Daft Punk oonst-meets Gangnam Style hoop-la of Give It 2 U (although those who quivered at the lyrics to Blurred Lines might faint with lines like "I got a big dick for you").
And Top of the World, which simmers along saucily with an inspired, old-school rap. Take It Easy On Me is driven by distorted bass and banging beats and Ooo La La is a sunny tune with Thicke wearing rose-tinted R&B sunnies.
But then there's the high-beam, hands in the air-house pop music of Feel Good, 4 The Rest of My Life is insipid and soppy and The Good Life is an overly earnest finale. It's interesting to note that until Blurred Lines (the song), Thicke had never really taken off in New Zealand.
This album is unlikely to have the impact the single had. Overall it lacks the soul pop heft someone like Justin Timberlake or Bruno Mars bring to their music, and it doesn't even come close to the sweet power and pure passion of Thicke's idol, Marvin Gaye.
Stars: 2.5/5
Verdict: One hit single does not a Timberlake make
Click here to buy Blurred Lines by Robin Thicke.
Follow @nzherald_ent on Twitter for all the latest entertainment news.
- TimeOut