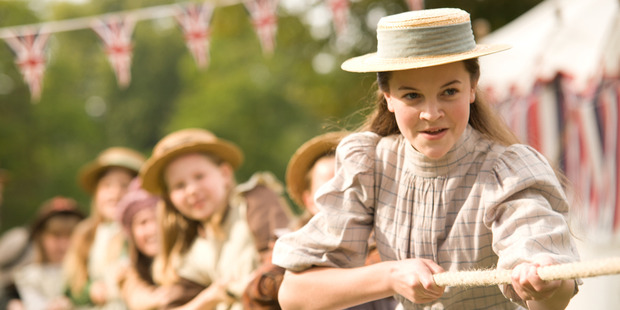 Michael Morpurgo's 2003 novel for older children gets a handsome, sensitive screen adaptation that provides thought-provoking entertainment for the holidays.
Morpurgo, whose War Horse made a spectacular piece of theatre and big-budget film, treads similar ground here: indeed, the compulsory requisitioning of farmers' horses for service in Flanders is used to portend the central characters' conscription. But it's primarily the story of Tommo Peaceful (Mackay) and his older brother Charlie (O'Connell), whose hard but happy life in rural Devonshire is interrupted by World War I.
Their rivalry for the love of neighbourhood beauty Molly Monks (Roach) adds depth to the sibling relationship, which is tested in the trenches where the two brothers come under the baleful command of a martinet sergeant (Lynch).
Intimate in scale and high-quality in execution, the film has a powerful anti-war edge and it's old-fashioned in the best sense, even if some scenes feel scrubbed a little clean.
Parents should be warned that, although the battlefield scenes are not too grisly, there is an execution by firing squad.
The film is, incidentally, the last screen role (as a pompous squire who is the Peacefuls' landlord) for the prolific Richard Griffiths, who died in March.
Stars: 3.5/5
Cast: George Mackay, Jack O'Connell, Alexandra Roach, Richard Griffiths, John Lynch, Frances de la Tour
Director: Pat O'Connor
Running time: 100 mins
Rating: M (battle violence)
Verdict: Quality drama aimed at older kids.
Follow @nzherald_ent on Twitter for all the latest entertainment news.
- TimeOut