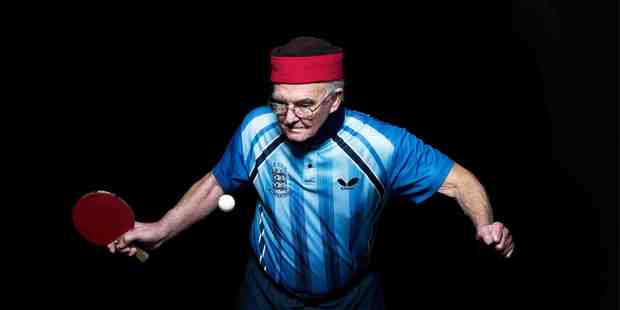 Possibly an attempt to plug into the audience that flocked to 2007's charming Young@Heart (about a senior citizens' choir with a taste for Hendrix and Coldplay), this small-scale documentary looks at the world's top table tennis players in the 80-plus age group.
It emerges the octogenarians are the youngsters of the competition: three have hit 90, and a 101-year-old Australian, Dorothy DeLow, was, it appears, born before the game was invented.
Director Hartford, who makes current affairs films for al Jazeera English, certainly knows how to construct a narrative: he takes us into the lives and homes of his eight contestants in six countries as they prepare for the age-group world champs in Inner Mongolia.
Front and centre is 82-year-old Terry Donlon, who has a heartbreaking history and whom we meet in the first scene on his deathbed. The sheer grit he brings to competition is extremely humbling, though it seems to have no effect on one Australian he plays, whose dismissiveness will tend to confirm any prejudices you may have about that country's notions of fair play.
The story the film tells is not as full of drama as Hartford might have liked, and the competition footage is slightly spoiled by the fact that his cameras had no better than spectator access. But it's an engrossing insight into a very specific subculture and the sight of DeLow's dogged and precise rallying will astonish you.
As a matter of interest, the 2014 World Veteran Table Tennis Championships will take place in Auckland.
Stars: 3/5
Director: Hugh Hartford
Running time: 76 mins
Rating: PG (coarse language) Some subtitles
Verdict: Young@Heart with balls
Follow @nzherald_ent on Twitter for all the latest entertainment news.
- TimeOut