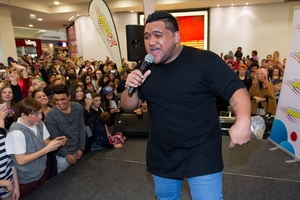 Whenua Patuwai says he feels like he's living in a movie after making it into The X Factor's final three contestants.
And yesterday he got to perform at home and thank those who have supported him.
"The support has been crazy and I've been getting a lot of it since the start of the show - I'm grateful for everything and everyone."
The 17-year-old is the youngest of the three singers left in the competition after boy band Moorhouse was eliminated on Monday night. The top three - Patuwai, Jackie Thomas, 22, and Benny Tipene, 22 - are this week returning to their home towns to serenade their fans.
Patuwai said his voice was "smashed" after his Riccarton mall performance yesterday and the hectic rehearsal schedule. But he's been enjoying every minute.
"I've loved being back home and the turnout in the mall was amazing. There was loads of people - I didn't think it was going to be that packed, but it was. It was amazing."
He guessed a couple of hundred showed up to watch him perform.
The R&B singer said people had been recognising him in the street, congratulating him and asking for his signature.
"You can't really go anywhere without someone recognising you - it's crazy. I guess it's just really, really overwhelming for me to have people coming up to me and asking for photos and autographs, but it's been awesome," he said.
"You only see this stuff in movies and stuff like that. It's amazing. My dreams are coming true pretty much.
"We're all so not used to this before we went on the show, it's so different to what we're living now so you have to be in our shoes to be able to explain it."
When the auditions first came to Christchurch, Patuwai's family had to convince him to step up. But he now thinks he could go all the way and win The X Factor if he knuckles down and works hard. Regardless of what happens, he plans to stay in the music industry.
The X Factor's final performances will take place on Sunday night from 7pm and the winner will be announced on Monday.
Follow @nzherald_ent on Twitter for all the latest entertainment news.
Tomorrow: Jackie Thomas.