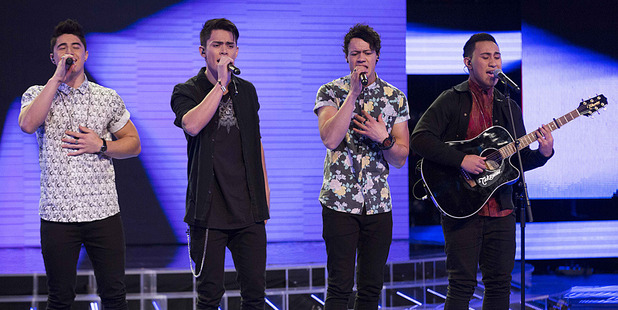 Moorhouse singers Marley Sola Wilcox-Nanai and Rory McKenna say being in a group got them knocked out of The X Factor.
The boy band - which also features Brock Ashby, 19, and Jason Aileone, 19 - were eliminated from the TV competition last night after gaining the least votes from viewers.
Sola Wilcox-Nanai, 17, told nzherald.co.nz he could see why viewers would want to vote for a solo act instead of a group.
"If I was watching X Factor, I wouldn't have voted for us either."
He used to look up to The X Factor judge Stan Walker when he was performing on Australian Idol.
"I used to go close as to the TV and watch him. I thought he was the man."
McKenna, 20, said New Zealanders may have voted for the competition's remaining solo acts because they like underdogs.
"New Zealand doesn't really want to vote for a group. For me, I think they like to see someone who's not as confident.
"I think that's wrong because we should always embrace whats good about people."
Moorhouse's elimination leaves Whenua Patuwai, Jackie Thomas and Benny Tipene to square off in The X Factor final on Monday.
McKenna said failing to earn praise from Walker for their performances on Sunday could have cost them a spot in the final.
Many voters take their cue from Walker because he is the only judge without an act in the competition, he said.
"Because Stan said what he said, when in our lives he's an icon and an idol - he's a big factor in what people vote."
Despite that, Sola Wilcox-Nanai said the group would remain close to Walker long after the show stops.
"He was totally like one of our brothers. You could probably mistake him for the fifth member of Moorhouse."
The group sometimes clashed with judge Daniel Bedingfield, who once told them they needed autotune to improve their sound.
Sola Wilcox-Nanai thought Bedingfield was just being harsh because he wanted his acts to make it through to the final.
"I can never take what he's saying personally because sometimes he doesn't even know what he's saying himself. Like he'd always come up to us after the show saying, 'Was I too harsh?' and looking for feedback."
He is hoping Sony will pick them up for a recording contract despite not winning the show.
"That's the dream. That's why we entered this competition in the first place."
MOORHOUSE ON ...
Who will win:
Sola Wilcox-Nanai:"Whenua. I know he's got so much more in him. He'd better do it this week because it's now or go home."
McKenna "Personally I think Benny because he's just so different."
Their army of teen girl fans:
Sola Wilcox-Nanai: "That's definitely our demographic.
"It's weird because I'm still the same person that I was when I wasn't getting recognised. I've seen it get to people's heads - the fame thing. But we're all the same Moorhouse we were when we entered X Factor."
Losing their fifth member Rameka Paraki:
Sola Wilcox-Nanai: "We were strong with five but it doesn't mean we were going to win.... Well actually Rameka was really popular with the girls so maybe we would have won with him."
Whether they deserved to stay on the show:
Sola Wilcox-Nanai:"I thought we were one of the hardest working groups on The X Factor. But I understand because it's a game show. I felt we deserved to go on, but I feel proud coming this far."
McKenna "I think we got into our skin a bit more as the show went on. But even when we made progress, the judges wouldn't really say it. Dan wouldn't say it."
Follow @nzherald_ent on Twitter for up-to-the-minute entertainment news, videos and reviews.
- nzherald.co.nz