Free channels are missing out on the best shows ... so we're getting reality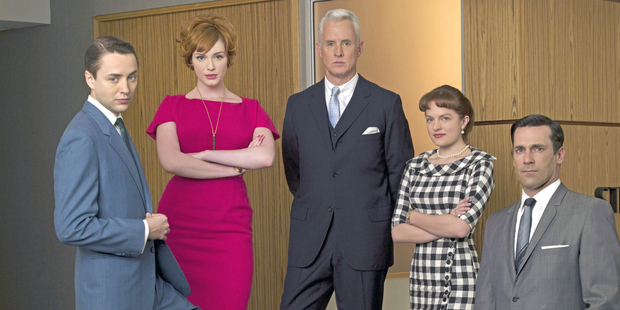 New Zealanders are resigned to the disappearance of top international dramas from free primetime TV, a survey shows. Nearly half - 45 per cent - agree the best shows are now on pay TV channels. Only a quarter of viewers disagree.
And now, Sky spokeswoman Kirsty Way says the pay TV network is planning to expand its news and current affairs offering - a challenge to TVOne and TV3's greatest strength.
Many of the most critically-acclaimed international dramas that once screened on TVNZ, TV3 or Four, such as Breaking Bad and Justified, have been quietly dropped into late-night slots, and then the rights relinquished to Sky to screen on its premium SoHo channel.
Nielsen CMI figures show 53 per cent of New Zealanders are Sky subscribers. A basic subscription is $46.92 a month; SoHo is another $9.99.
Free TV is left with a schedule heavy with talent shows like The X-Factor and Mitre 10 Dream Home, and fly-on-the-wall reality shows like Border Patrol and Dog Squad.
Shortland Street and Coronation St are still two of the most popular shows on TV - despite only 20 per cent of respondents to the Herald on Sunday-Nielsen survey admitting to liking soaps.
TVNZ stole Home and Away from cash-strapped TV3 last week, as the two main free-to-air channels fight over the scraps of international drama - while giving up the fight for top British and American dramas.
A Herald on Sunday investigation shows 61 per cent of readers like watching drama - but they have been reluctant to pay for it. Only 15 per cent want more public funding for TV, through a mechanism such as a broadcasting fee.
Eighty-five per cent of TV viewers polled want an alternative solution to the frequent ad breaks that fund New Zealand free-to-air TV. The two preferred solutions are:
The ad breaks should be longer, but less frequent;
TV channels should replace some of the ad breaks with greater use of other forms of commercial support, like show sponsorship, product placement and product endorsements.
Competition-based reality shows like The Block and Mitre 10 Dream Home are already peppered with product endorsements, and The X-Factor turned over about five minutes of one episode to contestants singing the praises of their new Samsung smartphones.
But broadcasters have traditionally been loath to seek commercial sponsorship for the more serious dramas - and the ratings show they do not necessarily need to buy the high-end international shows.
The survey shows 29 per cent of respondents believe TV channels have the advertising balance "about right", and even those who are unhappy with it are still watching it. Despite the growth of pay TV, ratings on free-to-air channels remain as high as they have ever been.
TVNZ corporate communications manager Georgie Hills said viewers voted with their remotes every night, and the result was reflected in the ratings success of the state-owned broadcaster's shows.
University of Auckland media researcher Dr Joe Atkinson said a generation of Kiwis had never known ad-free television and would recoil from any return to a broadcasting fee.
It would take the imposition of a $300 fee on every New Zealand household to cover the more than $500 million earned from TV advertising last year.
Despite broadcasters fretting about the rise of cheap online TV platforms, a majority of people said free-to-air TV was still a good way to watch most shows.
TV3 and Four spokeswoman Rachel Lorimer said Kiwi viewers were "very well served" by free-to-air television.
"We broadcast some of the very best local and international content and this includes some of the best cable shows in the world, such as Sons of Anarchy and multi-Emmy award winner Homeland," she said.
"However, programmes made for cable television are aimed at niche audiences and can struggle to find a broad viewership in New Zealand."

Herald on Sunday readers demand return of top drama
The elegant American drama, Mad Men, which portrays the cut-throat dealings of a 1960s advertising agency, was dropped from free-to-air TV after it failed to rate, and picked up by Sky's premium pay TV channel SoHo.
But now, New Zealanders are voting for its return. It has topped today's poll on which pay TV shows New Zealanders would most like back on free, primetime TV.
It narrowly beat out Breaking Bad, a high-stakes drama about a high-school chemistry teacher who turned to cooking methamphetamine when he was diagnosed with cancer.
Mad Men previously ran on Sky's free-to-air channel Prime. Breaking Bad and the third-placed show, Dexter, both ran on TV3.
At its peak on Prime, Mad Men got nearly 31,000 viewers in the key commercial 18-49 demographic, according to Nielsen TAM ratings agency. But its popularity dropped away, and the last new episode to screen got just 7,900 viewers in May 2011.
After that, Sky moved it to SoHo. Fans must now pay $46.92 a month for basic a Sky subscription, and an additional $9.99 a month for SoHo.
Asked whether Sky would run delayed seasons on Prime, to placate Mad Men fans who cannot afford SoHo, spokeswoman Kirsty Way was unwilling to make any promises.
"We have a very experienced programming team with plenty of information and tools to help make the best decisions for our NZ audience."

Survey

Which pay TV show would you like back on free TV?
• Mad Men - 19%
• Breaking Bad - 17%
• Dexter - 15%
• Justified - 9%
• In Treatment - 3%