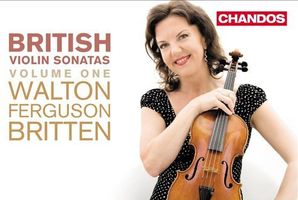 Tasmin Little and Piers Lane are quite a team and the latest project from the English violinist and Australian pianist brings the anticipation of more pleasures to come.
Volume one of British Violin Sonatas offers a sharply chosen sampling of unfamiliar music persuasively played and imbued by producer Andrew Kenner with a presence that might encourage fantasies of being treated to a stylish house concert in your own lounge.
The 1949 Walton sonata is the best-known piece here, but still hardly standard repertoire. Written for Yehudi Menuhin, its fluent gestural writing and intricately woven textures suit these musicians well, especially in the volatile moods of the second movement's variations.
A Britten suite is lightish, five short pieces rather than an integrated sonata, but the 21-year-old composer's gift for vivid characterisation is ample compensation.
The brilliant style games of Britten's Variations on a theme of Frank Bridge were yet to come, but this suite includes a bracing shift from a translucently beautiful Lullaby to a Waltz that flits and flutters with zesty humour.
Irish composer Howard Ferguson (1908-1999) deserves to be better known - for years he was remembered mainly through a set of piano Bagatelles that were staple examination fare.
His 1938 Sonata has muscles and knows how to flex them. Even in the Adagio, where Little responds rapturously to a certain Celtic strain, one never loses the thrust and parry of Ferguson's writing.
It was also the fate of York Bowen (1884-1961) to be remembered for a handful of utilitarian piano pieces. Recently, his music has been rediscovered and recorded, most notably with Danny Driver's superb 2008 account of two Bowen piano concertos.
Driver accompanies Chloe Hanslip in Hyperion's new two-CD set of Bowen's complete violin and piano works but, despite sterling performances, pickings are inconsistent.
A 1945 Sonata seems flaccid alongside the Walton and Ferguson that Little and Lane come up with and too much space is given to a succession of short pieces, including a 1949 Song that sounds as if Mendelssohn has gone time-travelling for an amble in Delius' summer garden.


Classic CD
British Violin Sonatas (Chandos)
Rating: 5/5
York Bowen: Complete Works for Violin and Piano (Hyperion)
Rating: 3/5
Verdict: Two violinists explore the variable British treasures for their instrument.