US supremo revisits responsive instrument, writes William Dart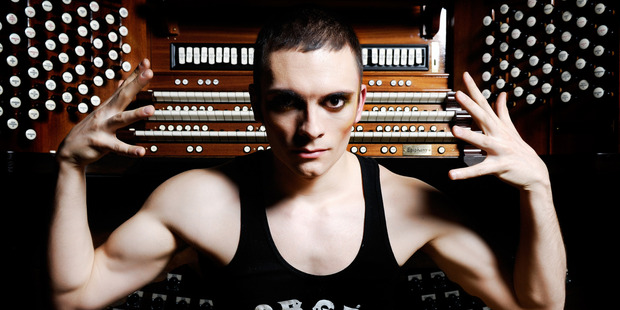 Next Thursday, there are two flamboyant acts in town vying for your discretionary dollar. While Michael Douglas camps it up on screen as Liberace in Behind the Candelabra, opening the New Zealand International Film Festival, Auckland Philharmonia Orchestra features the extremely theatrical Cameron Carpenter as soloist in Not Your Grandma's Organist.
Carpenter is less testy than I found him two years ago. The vibes are good in Manchester where he and bass Eric Owens are opening in a bold coupling of Shostakovich and Bach, masterminded by "newly adopted mentor" Peter Sellars.
Carpenter is still obsessed with "taking the organ out of its irascibly isolated existence into the broader world". The organ world is "a poor man's intellectual Academia, a musically stifling graveyard. It is to be respected as such, but avoided by the living, except for memorial purposes".
Carpenter's touring digital organ, after years of planning, will soon be a reality, celebrated with a European tour and a new Sony CD. No longer will the instrument have to be a "massive earthbound thing", he says, but rather a "hanging garden of sound".
On his second visit to our city, he is fated to use an instrument with old-fashioned pipes. He knows the Town Hall organ and admires its builder, Philipp Klais.
"Klais is the most visible advocate of the pipe organ in Europe. He's young, well educated and a great builder of pipe organs, even if all pipe organs are ultimately doomed to be locked into a particular location."
He remembers, from playing Barber's Toccata Festiva with the NZSO National Youth Orchestra two years ago, that the Town Hall instrument is "pretty snappy in terms of response.
"Usually, the big town hall instruments are rather slow," he explains. "You have to throw a lot more energy to get the point across, which is rather exhausting.
"Weird would be a sympathetic way of putting it," is his response when I bring up the problems of the itinerant organist. "One of the accepted tenets of playing the organ is that it's a point of pride to know each instrument. You could spend a lifetime exploring just the one, but a touring organist has to start each time from zero.
"Imagine if, whenever you wanted to screen a film, you had to shoot the film again. With the touring organ, I'll be able to walk on stage every night and play the instrument that I know deeply and that I practise on."
Next Saturday, Aucklanders can experience Carpenter in solo recital, in a programme announced from the stage; "conceived in a free fashion, more relevant to my own lifestyle and generation," he adds.
On Thursday, with the APO, he plays a Symphonie Concertante by the Belgian composer Joseph Jongen. "This is the only thing in the organ's native repertoire that would be relatable to a major romantic piano concerto."
Carpenter puts great store on visual presentation and sees this 1926 score as "highly cinematic, particularly in the last movement", although he is wary of the term "showpiece" when it inadvertently slips into our conversation.
"I respond remarkably badly to the use of the word 'show' in artistic matters," he says, in a friendly but somewhat chiding tone. "It's such a silly, empty word and one that last had some significance around 1910 when sideshow barkers were going out of style."


Performance
What: Auckland Philharmonia Orchestra
Where and when: Auckland Town Hall, Thursday at 8pm
What: Cameron Carpenter in concert
Where and when: Auckland Town Hall, Saturday, July 20 at 8pm