Experience didn't prepare Stan Walker for X Factor.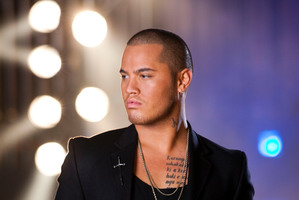 Stan Walker should've known what he was getting himself in for when he signed up to be a judge on The X Factor New Zealand. After all, it was a television talent show of the same ilk, Australian Idol, which launched his career. But as the first Kiwi series nears its end, the singer admits it's been one hell of a journey.
"I knew it was going to cause a stir in every which way," he says. "I just didn't realise that it was going to be such a household hit, constantly."
Like all the judges, Walker has faced a barrage of criticism - everything from the decisions he's made to the way he talks. He's also the only judge without any acts to champion.
But this is "Stan the Man". He's one of the country's most successful recording artists. Yes he's learned a lot. And yes, there are times when he has questioned whether he's made the right decisions. But he doesn't believe in "shoulda, woulda, coulda". And he stands by everything.
"I've given a lot of the acts a chance and if they don't meet the standard and take that opportunity, then they're going to go home."
What's more, he hardly reads Twitter and other social media sites and couldn't give a monkey's what people say about him.
"From an early stage, when I started doing all of this, I never once got caught up in that. It's just people's opinions, it's hype, sometimes it's just bull crap and if you're finding your self-worth on Twitter and Facebook, then you're never going to be yourself."
Walker says it was hard when his last act, Anna Wilson, was voted out weeks ago. But he's put his energies into helping the remaining contestants.
Plus it has freed him to focus on his own career. And tomorrow night, he'll be the only judge to get a second shot at performing live on the show, an opportunity guaranteed to send his new single Inventing Myself straight to the top of the charts. Just as Bulletproof did when he performed it on June 3.
"This is such an awesome opportunity for New Zealand artists to show what they've got because there's no other big platform to showcase our talent. This is awesome for New Zealand."
There's also his World Tour of New Zealand, where Walker gets to do what he loves the most - connecting with everyday Kiwis.
"There's nothing like it, going to all those little places. I always think about where all the other little me's are at and they're hiding in places like Edgecumbe and Te Kuiti."
But one final X Factor question - would he do it all again? "Oh man, I don't know. It's a pretty humongous job and your whole life is consumed by it. But we'll see what happens."
* Stan Walker performs live on The X Factor on TV3 tomorrow night. His World Tour of New Zealand kicks off in Rotorua on September 4.