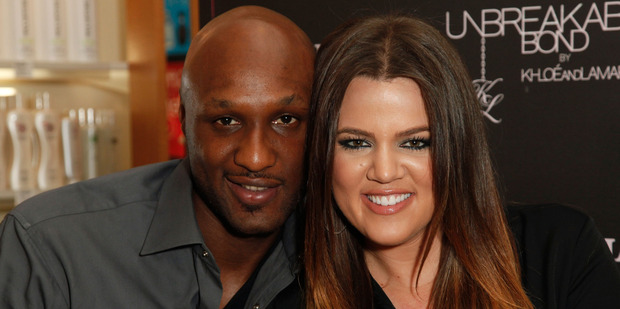 Lamar Odom's confrontation with a photographer reportedly came after he was repeatedly quizzed about his marriage.
A report on Wednesday alleged the basketball star has been cheating on his wife Khloe Kardashian for over a year. The American edition of Star magazine claimed the sportsman has been romancing Jennifer Richardson, who is 29.
Later in the day Odom lashed out at a paparazzo while in Hollywood. Photographs and a video appear to show the 33-year-old opening the door of the man's vehicle and removing his camera. The equipment is then seen in the middle of the room while Odom is accused of smashing another car with a pipe.
According to TMZ, the incident occurred after Odom was asked about his rumoured infidelity.
"I would never cheat on my wife, that's why I wear my wedding ring," he is heard telling the paparazzo in a video, before asking the man's name and adding: "I'm gonna step out the car and I'm gonna talk to you."
There is then a break in the recording and when it comes back Odom is standing in the road holding the photographer's belongings. He asks the athlete to return the items, promoting Odom to reply: "Shut up," before giving them back.
Kardashian was quick to step to her husband's defence, using Twitter to tell fans their side of the story. She claims the photographer had angered her spouse by trespassing and was known to the family.
"wow can't believe a paparazzi snuck into our gated area and violated our private property !" she wrote.
"This is the same pap that did a hit and run but my brother and I caught him and he has the nerve to taunt us Be ashamed of your self... F**k the papz !! You f**king losers !!
"This becomes stalking at some point !! Its wild ! (sic)."
She also praised her husband for taking the time to pose with a fan just after the altercation.
Following the allegations that Odom had been unfaithful it was claimed Kardashian had thrown him out of their marital home. Those suggestions have since been rubbished by a source who insists the infidelity rumours are unfounded and the pair couldn't be happier.
"They're more in love than ever," the insider told MailOnline.
"Khloe did not kick Lamar out of the house, they are 100 per cent fine."
Kardashian and Odom married in September 2009, just one month after they met.
- Cover Media