Etana has earned that title with her breezy but beat-heavy offering, says Paula Yeoman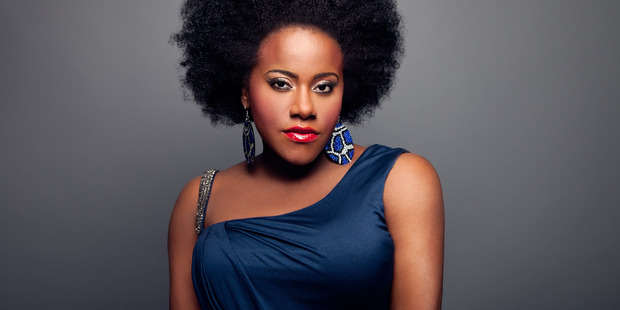 Kingston-born singer Shauna McKenzie, aka Etana, has spent years doing the hard yards in the male-dominated world of reggae.
Now, her third album, Better Tomorrow, firmly establishes her as one of the new matriarchs of the genre.
Recorded in Bob Marley's Tuff Gong studios in Jamaica, McKenzie was adamant from the outset that the album needed to sound and feel like a concert performance.
"Everybody was there at the same time - all the musicians, all the engineers," she says. "So when we walked into that studio every day, it was a full house."
"I wanted everybody to feel my energy, see my smile, see me when I'm serious. See me in every way," she adds.
Sonically, it's a strategy that clearly manifests itself in breezy, feel-good tracks like Reggae and Beautiful Day, but equally on the beat-heavy Queen, which McKenzie describes as a tribute to "the striving, struggling hard-working women in the concrete jungle".
She says recording it in a legendary space steeped in history helped as well.
"When I'm in that studio, I get a different vibe. To see the engineer who used to work with Bob Marley walk out in your session and help fix the instrument or ask if you're all right is amazing. It totally gives you a different vibe."
The now Florida-based artist was pregnant with her second child throughout the recording of Better Tomorrow and samples a real life birth on the song Til You Get Old.
"It's not my birth," she laughs, adding that looking back she can't believe how much energy she had.
"You know, now I get tired with so much to do. But we did a whole year of recording and touring while I was pregnant, so I now question myself - how come I had so much strength? I guess it's mental."
McKenzie first made her mark on the reggae scene in 2007 with her debut The Strong One, which is the English translation for her Swahili stage name, Etana.
It's a title that's stuck with the artist, who is not afraid to say exactly what she thinks about the business and impart knowledge to up-and-coming female artists.
"Always be true to yourself. It's very important, because in reggae there's a free spirit but you have to be strong as a female.
"You have to know what you want, go after it, show respect," she says.
"Do not do things to belittle your name or your image. Don't bring sex to the business.
"If someone feels like you have to use sex to take you to the next level, believe me, it will not work.
"Stay true to yourself and stay true to your music."
Etana's album Better Tomorrow is out now.