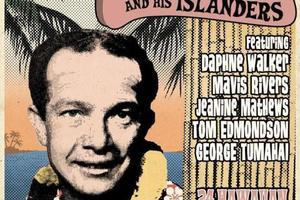 Now aged 90, Bill Sevesi doesn't get to do much recording these days, though he's still writing tunes for his local primary school to learn. But there's a wealth of his music out there which has never been released on CD, and this new 24-track collection from Ode Records takes tunes from the master tapes of his two best-selling albums - Sea Breeze, and South Seas Affair - and celebrates Sevesi's talent, not just as a legendary steel guitarist but as a band leader.
The album drips with nostalgia, the lovely crooning of vocalists like Daphne Walker and George Tumahai ably supported by tight, bright ukulele strumming, and duetting with the emotive twirl of the steel guitar lines (Pagan Moon is a perfect example). Other times Sevesi is left to shine on his own, like on Tiger Shark, where his beautiful steel playing expresses just as much as any lyrics.
The tracks are a mixture of originals by Sevesi and a few favourite classics, along with some tunes by fellow steel guitarist Trevor Edmondson (Hawaiian Hotel March is an excellent, jaunty wee number), and the musicianship is outstanding throughout.
It's all so tastefully done, that even though palm trees and pina coladas at sunset are never far away, they deftly avoid sounding like cheesy cruise ship music.
Stars: 4/5
Click here to buy 24 Hawaiian Favourites by Bill Sevesi.
Follow @nzherald_ent on Twitter for all the latest entertainment news.
- TimeOut