Blogger Paul Casserly is reviewing the best in weekend radio, starting with 95bFM's excellent 'Carnival in Rio'.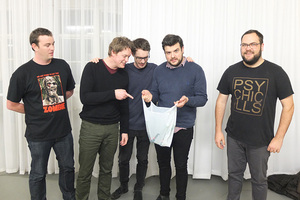 The 95bFM show Carnival In Rio has a title that one could take a case to the commerce commission on and win. Talk about misleading advertising. A Shambles on Symonds Street more like, but don't get me wrong, because this is one of the best things on radio in this shoddy city of ours. Hosted by Richard, Paul, Tony and James - bFM has always been about first names - the show has been running since 2007.
The ethos seems to be the absence of pretension and a professional approach to being casual. At times it functions as a on air clubhouse for mates who seem like they really don't have anything better to do, which is to say it represents bFM at it's best. The hippies who set the station up in 1969 - when it was called Radio Bosom - would approve. It veers between sounding like an incredibly well read student flat to the dementia ward at a rest home. In some ways the show is a standard bearer for the old student radio culture that has somewhat eroded over the years as alternativeness has gone mainstream and commercialism has soaked into every nook, cranny and orifice.
It's fair to say that show is a bit of a sausage sizzle, as the regular guests are all male too. At 4.30pm there's Rob's Bollocks, a rambling sports chat with the entertainingly gruff Rob, who sounds like a cross between an East End barrow boy and a PG Tips Chimp. He loves football and was naturally concerned about Sky losing the rights to the Premier League, prompting him to say things like, "I might 'ave to get a bleedin' compoota".
Tony Tunes, joins in at 5pm to play new music. The new Pixies single Bagboy got an airing last week and was accompanied with a debate about the repercussions of Pixies bass player Kim Deal leaving the band. It's not a deal breaker apparently. A dreamy new track from electronic band Boards of Canada was next, called New Seeds. Then Beck Hansen's new track Defriended.
5.30pm brings 5.30 With Dudes, a weekly beer tasting and review that takes its name from Jude Dobson's 1990's TV1 show, 530 With Jude. Recently there was a review of a low alcohol beer, Croucher Lowrider, a drop from the Rotorua brewer that tastes great and only knocks you back 2.7%.
"A good beer for taking to parties and driving on" said Richard, "Yes it's a good driving beer, or if you need to take a beer on a run, or say for an 11 year old", added Paul. This is followed by memories of their first beers. Richard said "it was 15 before I got a taste for beer." Someone else piped in with tales of 4 and 5 year olds he knows who "are on the beers."
Other highlights are Ricky Stratton's Cult TV Flashback at 6pm, featuring the knowledgeable mystery man behind another of the station's favourite segments - Cartlon Crisp's Snack Report. Whoever he is, this guy sure knows his TV, as well as his way around a nibble nook.
At 6.45pm you can hear the ultimate in geek radio as "DV Dan" (who also reviews film and DVDs) presents Readings from The Adventures of Dolog. I actually wasn't sure what in the hell this was, but Richard Larson, the ringmaster of this three-ring circus, informs me via email that, "This is Dan's (complete) Fighting Fantasy pick-a-path adventure that he wrote on lined refill when he was a kid."
Which probably makes sense to people to people under 40.
As for that misleading title, Carnival In Rio, it's taken from the 1980s documentary in which Arnold Schwarzenegger sexually harasses his way around Rio.
There really isn't another radio show quite like it.
Carnival In Rio, 95BFM, Saturday's 4 - 7pm.