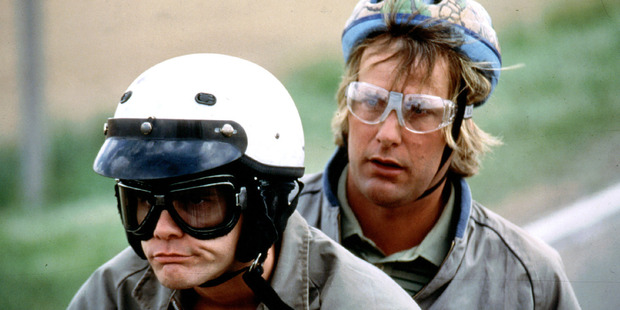 Moviegoers be warned, things are about to get dumb, twice as dumb in fact with the release of a sequel to one of the 90s most popular comedies.
Jeff Daniels has confirmed he and Jim Carrey will reprise their roles as hapless duo Harry Dunne and Lloyd Christmas in a follow up to the 1994 film Dumb and Dumber on the 20th anniversary of the comedy.
After a series of set backs, Dumb and Dumber To looks set for release in 2014.
Bobby and Peter Farrelly, the writers and directors behind the original and current movie, managed to secure new funding from executives at Universal Pictures in June after the project was dropped by a rival studio, and shooting will begin in September.
Daniels confirmed the release date during an interview on US talk show Late Night With Jimmy Fallon, but admitted he still can't believe the movie is going ahead, telling the host, "I'll believe it's happening when I'm actually there staring at Jim Carrey, but it looks like we're starting in September.''
He also revealed what audiences can expect from the new film, adding, "I've seen the script, it's hysterical. We're middle-aged, we're not pretending we aren't. We're middle-aged and we're still that stupid."
The upcoming comedy will be the third installment of the Dumb and Dumber franchise - prequel Dumb and Dumberer: When Harry Met Lloyd hit cinemas in 2003.
- WENN