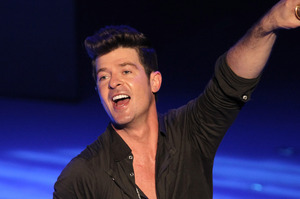 R&B star Robin Thicke has hit back at criticism his hit song Blurred Lines glamourises violence towards women with its sexually suggestive lyrics.
Thicke recently scored his first number one in the US and UK with the track, which features Pharrell Williams and TI, but he has come under fire from officials at a British rape charity for his choice of words on the single.
They are upset with lines like, "I hate these blurred lines/I know you want it" and "Nothing like your last guy/He don't smack that a** and pull your hair like that".
Rape Crisis spokeswoman Katie Russell said: "The lyrics of Blurred Lines seem to glamourise violence against women and to reinforce rape myths, which we strive to dispel...
"More disturbingly, certain lyrics are explicitly sexually violent and appear to reinforce victim-blaming rape myths, for example about women giving 'mixed signals' through their dress or behaviour, saying 'no' when they really mean 'yes' and so on."
The comments have angered Thicke, who has been married to his high school sweetheart, actress Paula Patton, since 2005, and he fiercely defended himself against the claims during an interview on Britain's BBC Radio 1 this week.
He said: "I can't even dignify that with a response, that's ridiculous...
"For me (the song is) about blurring the lines between men and women and how much we're the same. And the other side which is the blurred lines between a good girl and a bad girl, and even very good girls all have little bad sides to them."
Thicke also courted controversy with the song's video, which was pulled from YouTube over scenes featuring topless women.
The video has since been watched more than 40 million times on Vevo and the single is a worldwide hit.
- WENN