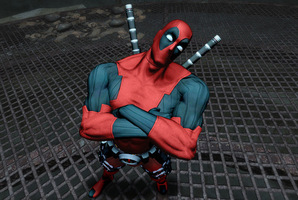 Arrogant, aggressive, amoral and a bit of a dick. If you're trying to sum up Marvel's kamikaze anti-hero Deadpool, that'll pretty much do it.
They're all traits that make Deadpool - a foul-mouthed hot-head who debuted in comic book form in 1991 and has gone on to become a cult favourite - a prime candidate for a bloodthirsty video game adaptation.
On that front, High Moon Studios has not disappointed.
Deadpool - last portrayed by Ryan Reynolds in that middling first Wolverine movie - combines arcade-style action with the character's trademark brand of sadistic humour, vicious violence and some timely in-jokes about video game cliches.
The result is a game that's light on intellectual stimulation, but heavy on relentlessly bloodthirsty aggression and sick LOLs.
Rest assured, the game's R18 rating is warranted. Deadpool's upgradable arsenal includes knives, machetes, guns and flash grenades and they can be used to dispatch enemies in increasingly inventive ways, thanks to some easily-learned combos.
Blood, guts and body parts are left splattered around sewer drains as the game progresses.
Combined with Deadpool's love of the F-word, this is not a game that you should play in front of your mum.
But it's Deadpool's sick sense of humour that really impresses: with a plot that involves a kind of self-referential commentary on the video game industry, Deadpool gets to throw in regular wisecracks about lame script twists and predictable narrative devices.
At one point Deadpool deliberately turns into an 8-bit top view game that he says was the result of budget cuts.
It's a storytelling method called "breaking the fourth wall"; in Deadpool it feels fresh and genuinely funny.
And fanboys will be pleased to note that fellow Marvel characters like Wolverine, Psylocke and Mister Sinister all make regular appearances.
Okay, so the arcade-style action can get repetitive, button-mashing becomes essential in places, end-of-level boss baddies soon become predictable and are easily taken down; some of the cut scenes seem a little rushed, and occasionally there are issues with camera lag.
But if you're into old-school arcade action and Kick-Ass style humour, Deadpool will give you at least a weekend's worth of solid entertainment.
Just make sure you check your political correctness in at the door.
Stars: 3.5/5
Platform: PS3
Rated: R18
- TimeOut
Follow @nzherald_ent on Twitter for all the latest entertainment news.