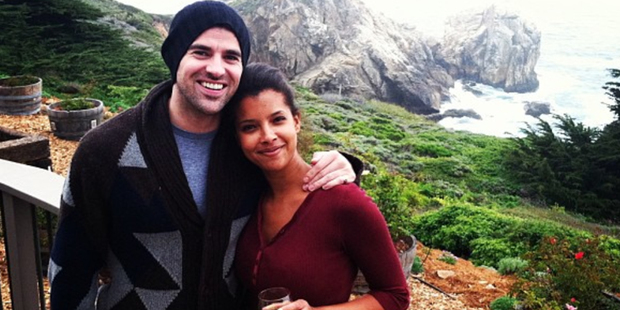 Two canine travellers caused a stir on a 10-hour international flight after Air New Zealand let the French bulldogs sit at the feet of their celebrity owners.
The high flying pets belonged to British TV host Steve Jones and his American girlfriend Phylicia Jackson, who were seated opposite a travel journalist writing a review of the carrier's premium economy Los Angeles to London flight last week.
Air New Zealand last night said the dogs, Frances and Dexter, were "service dogs" so the usual policy that all animals must be shipped caged as cargo did not apply.
The airline said it could not detail what service the dogs provided for privacy reasons.
Jenny Southan's review for Business Traveller praised the service for its friendly crew, in-flight entertainment and food quality, but questioned the presence of the uncaged dogs at their owners' feet.
"I was interested to notice that a certain well-known British TV presenter and his glamorous girlfriend were sitting across from me ...
and that they were travelling with their two pet Frenchies [French bulldogs], which were sitting on the floor in front of them. They were not in a cage," she wrote.
Southan told the Herald it was unheard of for pets to be in the cabin, let alone without cages, and she was still waiting for an explanation from Air New Zealand.
"I've never seen dogs on a plane before and I spoke to my editor because he's been flying on business even longer than I have and he's never seen dogs in the cabin before.
"It was quite unusual to see. I don't know where they went to the loo because it's a long flight.
"They weren't running around or anything or even barking, they seemed quite content."
Southan contacted Air NZ on Friday asking for an explanation as to why the dogs were allowed in the cabin.
Air NZ spokeswoman Brigitte Ransom denied the airline had gone against the policy.
"Air New Zealand is bound by and complies with all legislation relating to the carriage of certified service animals in accordance with local laws.
"The policy on service animals is quite different to that on the carriage of regular pets - as required by local laws."
Jones has been seen on New Zealand screens hosting US X Factor. He was axed after two seasons.
Jackson, a model, posted photos and videos of the dogs - and their premium travel arrangements - on social media websites with captions including "first class Franny" and "pooches on board".