Young performers delight in outstanding grand final of national contest - thankfully the first of many.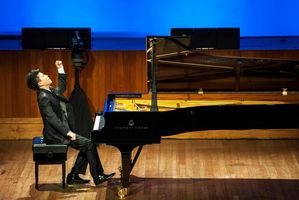 The grand final of the newly inaugurated Wallace National Piano Competition on Sunday offered three hours of memorable music-making. Significantly, one veteran composer and piano teacher told me in the foyer she had come up from Wellington to experience history in the making.
The often staggering performances from the four finalists were the tip of the proverbial iceberg.
Two full days of semifinals had seen 15 young pianists delivering around 10 hours of repertoire, ranging from Bach to Ligeti, as well as local composers.
The eventual winner, Jason Bae, is extremely comfortable on the concert stage, only last month playing Tchaikovsky with the Auckland Philharmonia Orchestra.
That confidence came out on Sunday in a magisterial Rachmaninov Second Sonata as well as a sensitively drawn Gaspard de la Nuit that needed only a smidgen more Ravelian seductiveness.
Runner-up Sylvia Jiang sailed from Haydn to Liszt, unfurling almost orchestral resonances in Liszt's Dante Sonata.
Eddie Giffney, who took third place, searched out the unusual. He played Bach, but via Busoni's transcription of the C major Toccata, Adagio and Fugue. Its grandiloquence proved less convincing than his beguiling Berg Sonata and the fanciful fairytales of Medtner's Sonata Skazka.
Jane Nayoung Koo, a last-minute replacement for an ailing Somi Kim, was a consummate technician; but Beethoven's Opus 109 was occasionally a little brutal and Schumann's ABEGG Variations simply needed a little more swoon in its phrases.
Allocating the $20,000 worth of prizes, which included an encouragement award for Somi Kim, judge Michael Houstoun made constructive comments on each contestant. He referred to their outstanding performances from the semifinals, still able to be enjoyed online thanks to the foresight of the competition organisers.
Bae playing Liszt, Giffney's Franck, Jiang's Debussy and Chopin and Koo's Mendelssohn had all counted in his final ranking.
Best of all, we also learned this was not going to be a one-off historical event. Patron Sir James Wallace announced that the competition would now be held annually - an act of generosity acknowledging that some of the younger generation strive for worthier goals than New Zealand's Got Talent and The X Factor.
Competition
What: Wallace National Piano Competition grand final
Where: Auckland Town Hall Concert Chamber.