Couple left reeling after shock elimination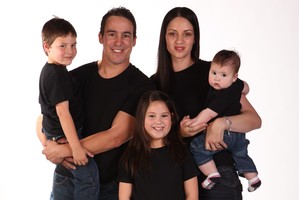 Ousted DIY reality television show contestants Manu Clarkson and Danielle McManus say they are devastated at losing a chance to build their dream home - but touched by widespread support for their family.
Angry viewers threatened to boycott Mitre 10 outlets and quit TV2 because of the selection process in the Mitre 10 Dream Home Show, which aired on Tuesday.
All contestants were required to produce a model of their dream home in 24 hours, and were warned they would be eliminated if they failed to finish.
CTV building collapse hero Clarkson and his fiancee lost to lesbian couple Amanda Fail and Jay Blair, who didn't complete their model.
After the first episode aired, the television show and building company's Facebook pages were plastered with outraged messages and claims the show's producers broke the rules.
A TVNZ representative said host Simon Barnett's comment about completing models was intended only to emphasise that teams would be under pressure to deliver a thought-out house plan within 24 hours, and apologised for any confusion.
Builder judge David Reid had been impressed with Fail and Blair's model despite them not cutting out the windows.
In an attempt to dampen Facebook exchanges, firefighter Clarkson - who rescued injured people from Christchurch's earthquake-hit CTV building - posted a conciliatory message, saying he was upset at not being selected but supported the remaining contestants.
"It was an emotional time for us, totally gutted, it really helps seeing all your messages," wrote Clarkson.
Fiancee McManus told the Herald on Sunday that she looked at social media straight after Tuesday night's episode "because my sister thought it might make me feel better".
She was surprised at the extent of support.
In another twist, Mitre 10's Facebook page revealed foster parents Martyn and Sarah Giles received the most public votes, which was not being announced on the show.
Said the Mitre 10 Facebook page: "The judges were really impressed by Jay and Amanda's layout so much so they said they didn't know any novices that could design to this standard. And Marty and Sarah voted in by the public are also just incredible people. "
TVNZ said some information had been published online but the broadcaster did not wish to reveal who won the vote as it could affect teams' chances as the competition progressed.