TV show's NZ race leaves its mark on rental car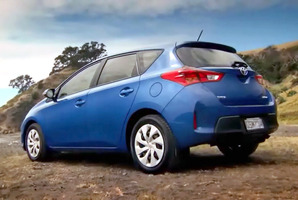 Hit TV show Top Gear left a blue Toyota hatchback the worse for wear after a madcap dash around New Zealand roads this year.
After reviewing photos of the car, Collision Repair Association head Neil Pritchard estimated the damage at more than $7,000, not counting mechanical work.
The first episode of the 20th season features a race between hosts Jeremy Clarkson in the Toyota and James May on board the America's Cup catamaran Oracle.
The action starts with May swimming out to the yacht off a Coromandel beach.
Clarkson roars off in the 1.8 litre Toyota Corolla GX - worth $33,490 on the showroom floor - but soon crashes into the side of a one-way bridge as he tries to squeeze past a 4WD vehicle coming the other way.
As Clarkson drives over the Auckland Harbour Bridge, he says to the camera he is doing 120km/h, though the speed limit on the bridge is 80km/h.
He carries on to smash through a wooden gate and run into a stone wall.
Police said they had received no calls about Clarkson's driving and therefore there was nothing to investigate.
"We've received no complaints about the driving," Northland road policing manager Inspector Murray Hodson said.
"We have not seen the programme. It is made for entertainment and usually these programmes are filmed on closed roads."
Viewers of the show were told the car was rented from Avis Budget, which did not return calls this week.
Toyota New Zealand communications manager Vanessa Millard said the company was involved with the programme but had little more to say.
"I can advise that the car in the upcoming Top Gear episode was indeed a Toyota Corolla and it did sustain a bit of damage from the race," she said.
"Although we did support the project on request from overseas, I don't have any images or descriptions of damage incurred. We are not in possession of the Corolla so it's a little difficult to provide information."
The race was seen by dozens of startled eyewitnesses.
Mark Thomson was kayaking with friends along the Coromandel coast and were overtaken by the massive Oracle.
"We got to Fletcher Bay and pulled in to camp there. The car had been through and tossed all the shingle off the side of the road.
"We met an American couple in a campervan who said the car had got stuck in a bog and had to be pulled out. They had never heard of the TV show, so it meant nothing to them."
Reaction to the show screening in the UK last week was mixed. Many viewers complained about a car as ordinary as a Toyota Corolla being included.
One hopeful UK car dealer named Gary Stamper tweeted: "If your watching Top Gear and you now want a Toyota, call me!! #toyotarulez @ToyotaGB #aurispower".
Another viewer, Peter Finn, commented: "If you ever go on holiday, don't lend a Blue Toyota from Avis. It might have issues after Top Gear have killed it!"
Prime TV said a date was yet to be set for the new season to screen here.