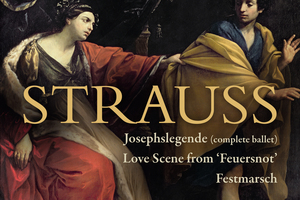 A few days ago, this paper's Viva magazine was a "luxury issue", dwelling on statement jewellery, first-class travel and decadent desserts - all part of a lifestyle that could easily accommodate Neeme Jarvi and the Royal Scottish National Orchestra's new Chandos recording of Richard Strauss' Josephslegende.
This is the perfect CD to give your stereo a test-run and succumb to Strauss' symphonic wash, without worrying too much about how many notches are being carved on to the belt of musical history.
Josephslegende is minor Strauss but a major curiosity; a 1914 ballet devised by the composer's favourite librettist, Hugo von Hofmannsthal, and premiered by Diaghilev's Russian Ballet a year after the tumult of Stravinsky's The Rite of Spring.
With a score demanding 58 string players, and running at just under an hour, this is the epitome of pre-World War I indulgence.
From the start, however, it had bad press. Ernest Newman, a devotee of the composer, likened it to the funeral of one's hero, dismissing the piece as "a mass of unredeemed banalities".
Neeme Jarvi and his players go some way towards a full redemption, their performance bathed in the sumptuous sound that has become the trademark of producer Brian Pidgeon in a series of his classy film music recordings with the BBC Philharmonic.
A remarkably full and detailed libretto by Von Hofmannsthal is linked to the 25 tracks within the piece; so, why not sit back and imagine your own personal ballet with the dancers of your dreams? If such creativity eludes you, check out the ravishing (and rather sexy) John Neumeier production on YouTube, with the lithe dancers of the Vienna State Opera.
Chandos has also included two after-dinner treats in case the palate is still curious after this 58-minute first course.
The first, the love scene from Strauss' 1901 opera Feuersnot, is as much a lush billet doux to the music of Wagner. The second is a Festmarsch Opus 1. The strutting first theme shows the 12-year-old composer certainly knew his Lohengrin although a more Mozartian strain, gracefully played, hints at a Rosenkavalier to come.


Classic CD
Strauss: Josephslegende (Chandos)
Rating: 5/5
Verdict: "Lush Straussian extravagance is vindicated in an appropriately luxurious recording."