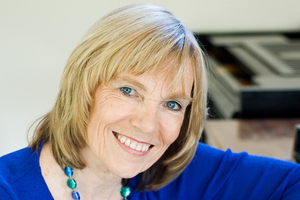 Rae de Lisle laughs heartily when I bring up her own illustrious career as a pianist, dating back to when she won the 1967 Auckland Star Piano Competition.
"Most of what I've done was lost when those big Radio New Zealand reels were destroyed - they used to reuse the tapes," she says.
These days, at Auckland University's School of Music, de Lisle is one of our most sought-after teachers.
She is also the artistic director of the inaugural Wallace National Piano Competition, now in progress. The 16 semifinalists offer their second programme today in the University Music Theatre; tomorrow, four of these will compete in the grand final for $20,000 in prize money.
This is a contest reserved for local musicians - competitors must be a New Zealand resident or have studied here for at least two years in the last five. The spur for de Lisle came from last year's Kerikeri International Piano Competition.
"Kerikeri was the catalyst," she says. "I was blown away by the quality of the event last year, but there were only six New Zealanders in it. Our students were so disappointed because this competition had been such a goal towards the end of their studies."
A seed was planted and, with the support of John Eady, of the Lewis Eady Charitable Trust, and the patronage of Sir James Wallace, a truly national homegrown piano competition has been born to test our young musicians' mettle.
"It's not only about winning," says de Lisle. "For these young people, it's a matter of building themselves up to a personal best and finding out what they're capable of."
The chosen 16 must prepare 75-105 minutes of music, including one classical sonata and, most importantly, a New Zealand composition. Local works range from a Lilburn Sonatina to a number of selections from the popular Landscape Preludes commissioned by Stephen De Pledge.
Today, you can hear familiar scores, as when Jason Bae tackles Liszt's monumental B minor Sonata. There is also the chance to hear Eddie Giffney deliver Franck's Prelude, Chorale and Fugue and Jane Nayoung Koo in Mendelssohn's lovely Variations Serieuses.
The new generation is very much in touch with what is going on in the piano world.
"They're able to access music and performances so easily on YouTube, Spotify and webcasting from international competitions," de Lisle says.
Adjudication has been entrusted to Michael Houstoun, and de Lisle understands the pressures this entails. On the judging panel at last year's Dublin International Piano Competition, she found herself listening most keenly to the quality of sound contestants drew from their instrument.
Discussing Mozart, de Lisle admits pianists "must be able to make a good sound, using their ears, and bringing out subtleties of pedalling and tonal range".
Nothing, however, can better the experience of playing before an audience and de Lisle tells me how one colleague saw a live performance as the equivalent of 10 hours' solitary practice.
"The adrenalin flows when you get up on that stage and that's when you know where your weak spots are. But you often surprise yourself by becoming creative in ways you might not have thought possible."


Performance
What: Wallace National Piano Competition
Where and when: University of Auckland Music Theatre, 6 Symonds St, semifinals today at 9.30am, 2pm, 7pm; grand final, Auckland Town Hall Concert Chamber, tomorrow at 3pm; live streaming on www.lect.co.nz.