Spectacular collages of images mounted at varying levels tell of life, fame and mortality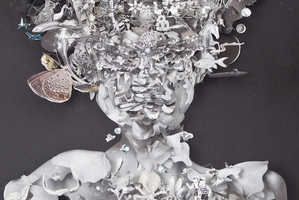 'I liberate photographic fragments from their original snap-and-capture setting and reposition them in the space of art," is Peter Madden's description of how he arrives at his fascinating collages at the Ivan Anthony Gallery.
The collages are filled with images, some extremely small, others more broad, cut with infinite patience, largely from National Geographic magazines.
He has been doing this for years now and this show is the culmination of these endeavours. His work was fascinating before. It is astonishing now.
The term "collage" is extended by his methods of mounting the images on various levels. There was a time when they were mounted on Perspex. Now he has work on both sides of a sheet of Perspex. Additionally, the show includes works where the images are in front of a background that has been painted as well as collaged. He also has works of extraordinary complexity where the images stand clear in space. In these, the multitudinous things he has chosen are mounted on pins of various lengths.
The most spectacular images are of head shapes and "cosmologies". The cosmologies are circular, like the amazing Coming From Everywhere where the centre is a ring of birds. From the centre, the work expands out to have hundreds of images dominated by a hypodermic and, near the bottom, by a procession of gorillas.
In between there is a mass of human and animal forms, sculpture and illustration, all swept up in a large complex circle which makes the eye consistently restless, with an enormous number of discoveries to be made.
The figurative works are equally complex and continually change perception of the character.
A work called Everyone Denies Ever Having Met Her has some legs near the bottom in high heels as well as ballet shoes. It rises up through a multiplicity of mouths, all with slightly different expressions. As well, there are flowers and the hurdling figure of Fanny Blankers-Koen, a renowned Dutch athlete.
This description only hints at the complexity of the image, which is fairly subdued in colour, but another work, Once We Were Women, is filled with rich autumnal colour and the variety of levels are extremely varied and intricate. These works are the most startling.
More simple images use one layer of overlapping collage in a more conventional way.
These pieces are undeniably clever, while others have a potent sense of mortality. Yet they cannot really compete with the amazing surrealistic conglomerations that tell so much of life, fame and mortality.
Madden's work has been fascinating in the past but this show, called Breathing Dreams Like Air, reinforces everything he has done.
The complexity of Madden's show is in complete contrast to the abstract simplicity of the paintings of the two artists at the Bath Street Gallery. Both are domestic-sized paintings but would require drastically different settings.
Mariko Susu's work is soft, tranquil, pastel-coloured and lovely, making a great use of blue. They evoke a horizon and suggest they are seascapes yet they are never specific, although they fall into three areas that might be read as land, sea and sky. They are all titled A Certain Place, but are so atmospheric that the certain place is in the coasts of the mind, not the edge of the land. Some smaller pieces are confined within a framing area of white. One of the most appealing, A Certain Place #75, is unusual in having red above the shades of blue. In larger works the broader areas have beautifully modulated surfaces where colours are subtly merged. It is a show of great charm and presence.
The work of Leon van den Eijkel boldly proclaims plain areas of colour - often primary colours of red, blue and yellow typical of the Dutch school of painting and De Stijl architecture. This is crossed with New York minimalism.
It would best suit minimalist, Bauhaus-style structures in houses or business premises.
The paintings are bold and strong. They show rectangles with plain, vivid surfaces that chime against each other and with geometric shapes that have great carrying power.
They have names like Four Squares, and the squares are sometimes staggered and irregular. His second variation involves stripes of colour with a square right in the centre.
This minimalist work is at its best when the rigid order is slightly varied, as in Three Squares and a Rectangle, where the rectangle is a larger, darker-brown shape that is articulated as weight against three vivid squares of brighter colour.
In the show by Cruz Jimenez at the Sanderson Gallery we have another variation on abstraction. The title of the show is Bubble Boy, and in the painting everything is in buoyant, bubbling movement though the principle shapes are bright conglomerations of transparent ovals. The works are celebratory of light, night and the surge of life. At their best, as in Light Up the Dark, they offer very rich-layered sensations.

At the galleries
What: Breathing Dreams Like Air by Peter Madden
Where and when: Ivan Anthony Gallery, cnr East St-Karangahape Rd, to July 20
TJ says: Peter Madden, after establishing a collage style of amazing complexity, continues to expand it with outstanding imagination and force.
What: Colour Coding by Leon van den Eijkel; Certain Places, by Mariko Susu
Where and when: Bath Street Gallery, 43 Bath St, Parnell, to July 20
TJ says: Two contrasting exhibitions: one bold, brassy and architectural and the other pastel, soft, atmospheric and lovely.
What: Bubble Boy by Cruz Jimenez
Where and when: Sanderson Gallery, Osborne Lane, 2 Kent St, Newmarket, to July 14
TJ says: Substantial paintings of considerable technical accomplishment that bubble up into a variety of shapes and atmospheric settings.
• Click here for more gallery listings