Ben Crawford predicts doozy arguments and high stress in a new home reno show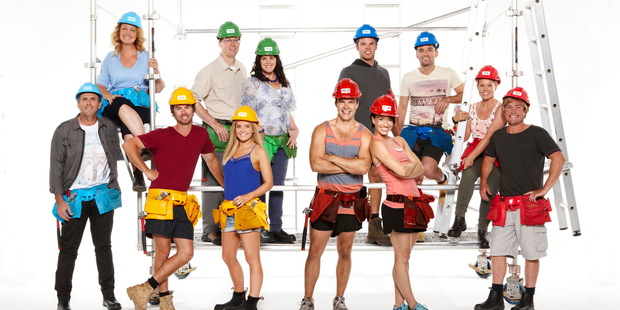 I can't sing. I can't dance. I can't cook. And I'm certainly no model. So if I was ever going to tick off a bucket list box that said 'Win a reality TV show', DIY was my trump card. I'm just glad the show I landed wasn't House Rules, the new renovation series on TV3 this week.
First of all it would mean dealing with Jane and Plinio for weeks on end. The husband and wife team from Tasmania are the most frustrating people I have ever seen. I guarantee that you'll join me screaming at the screen as they bumble through everything.
Secondly, I'm not sure I'd be willing to leave the restoration of my home in the hands of complete strangers. From the creators of My Kitchen Rules, the show is a home improvement variation on the incredibly popular cooking show. Six teams from across Australia invite each other into their own homes and host a reno party without the hosts.
Each week, while the homeowners are sent off to relax in resort-style luxury, their competitors are assigned a zone in their home to complete within seven days, however they want.
Returning at the end of the week to find their house fully renovated, the homeowners score each room without knowing which team did what. Combined with the judges' scores, the teams rack up points and the couple with the most points have their mortgage paid in full.
This is going to make for some brilliant viewing over and above the design inspiration. I can't wait to see the excitement, fear and trepidation as the homeowners return to view their opponents' handiwork. Secondly, the extent of work they are attempting each week is insane. We spent the best part of three months renovating our houses on The Block NZ and these guys have a week to completely transform each home, before starting all over again the following week.
Admittedly there are five other teams working on the property too, but that makes for an interesting dynamic. Every week, they have to worry about what they are doing and what their competitors are up to. The teams can't progress without each other, having to co-operate on floor plans, wall colours and flooring to successfully complete the job. I foresee some doozy arguments, especially given the lack of sleep, high stress and the strong personalities forced to work over the top of each other.
The most dominant personality is stay-at-home mum Michelle from Sydney. She is one scary lady. With comments like 'I tell Steven what to do and he does it' I feel sorry for her husband. My initial money was on the sibling team of Nick and Chris from Victoria but man, they argue more than Ginny and Rhys, so I'm not so sure any more.
Young couples Carly and Leighton from Adelaide and Jemma and Ben from Perth have a big advantage as both boys are carpenters and experienced DIYers, making them forces to be reckoned with. They are in stark contrast to recently engaged rookies Amy and Sean from Queensland, who are as green as you can get to DIY. But they could well be the wildcards, as they seem willing to learn, don't mind putting in the hard yards and have an eye for design.
House Rules is one show I'm glad I'll be watching from the comfort of my living room. Combined with a great, sing-out-loud soundtrack, Jane and Plinio mightn't be the only reason I jump off the sofa and gesture at the telly.
Ben Crawford and his sister Libby won the first series of The Block NZ.
House Rules premieres on TV3 on Tuesday at 7.30pm and will run Tuesday-Friday every week.
Follow @nzherald_ent on Twitter for all the latest entertainment news.