Booker T, the longtime king of soul-rock organ, talks to Scott Kara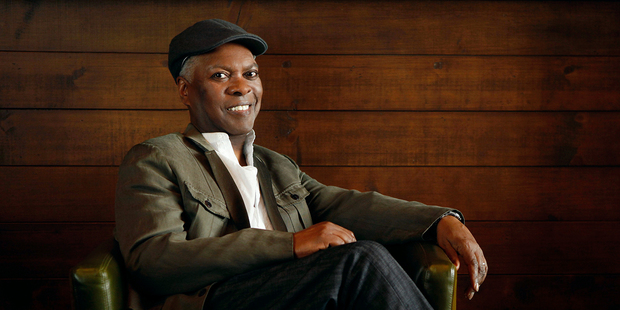 "I love Green Onions," says Booker T. Jones, the great organ player and leader of groundbreaking 60s soul and funk stars the MG's. Although the group's other songs such as Time Is Tight and Melting Pot are also famous, not to mention the many classic tracks they played on as the house band at Memphis label Stax Records in the 60s, it's Green Onions from 1962, that they are best known for.
"It's one of my favourite songs. I still get a thrill hearing it because it's just a unique track," he says on the phone from his home on Lake Tahoe, Nevada.
And much of the instrumental song's uniqueness comes from the lovely lingering notes played by Jones on his Hammond organ. Though these days he describes his singular sound as "pretty stock, pretty straight", when you hear it, there is no denying it's him.
"There are no tricks that go with it. But I think the difference comes in the way I learned to play the instrument, the way my teacher taught me to crawl over the notes and hold the notes - that's what's different."
His piano teacher was a woman by the name of Elmertha Cole, from his hometown of Memphis, Tennessee. She also had an organ in her dining room and a few of her students, including a young and eager Booker T., opted to learn that instead of piano.
"I just liked the sound of it. I was a big Ray Charles fan, and he played [organ] on One Mint Julep in the early 60s. And his organ sound was unique and his was the one I was trying to emulate, the one he was playing on One Mint Julep."
Not surprisingly, among the many diverse tracks on his latest solo album, Sound the Alarm, there are a few signature Green Onions-meets-Time Is Tight moments, such as on the celebratory and brassy Fun.
"That's a Hammond B-3 song that's very much done in the old way," he says. It's sweet how when he talks about his beloved instrument he almost always calls it by its full name, and treats it with a deep respect (though it has to be noted he played a Hammond M-3 on his earlier recordings).
Also in an old-school soul vein on the album are the beautiful pairing of Broken Heart and Gently; then there's the sauntering Austin City Blues, with Texan guitar hero Gary Clark jnr and the futuristic - almost experimental - soul of Can't Wait with British singer-rapper Estelle.
"It may surprise some people because the sound you hear on the Estelle song is still the Hammond B-3 - just used in a different way. It's mostly the echo from the Hammond that you are hearing there.
"If you listen to Melting Pot [from 1971], it's the same thing," he says. "Back then I was using the Hammond in a very untraditional way, actually. I don't know of any other musician who only used the echo portion of the sound back then."
The standout on the album is the title track with American white-boy soul wonder Mayer Hawthorne. "Oh yeah, Mayer's great," he says. He met Hawthorne "out in the woods in New York [state]" at the home of original blue-eyed soul man Daryl Hall, who does a web TV chat and music show from his house.
"He brings friends in and he invited us and we played together. He's a talented guy and anyone would be fortunate to work with him because he has the kind of ears that most people in the music business envy. He's a great singer, he can hit the notes and he's enthusiastic. He's got the 'it' factor."
Though the MG's are still a going concern, in the past five years Jones has had a solo renaissance, releasing Potato Hole (2009) and The Road from Memphis, both of which won Grammy awards in the instrumental categories.
"I've been regrouping in a number of ways, as a musician and a songwriter," he says, referring to getting his head around new recording techniques and digital audio.
But though recording an album these days is different from doing Green Onions, one thing hasn't changed, "the object is to still try and make a catchy little tune", he chuckles.
Booker T. & the MG's have written, or had a hand in writing and playing, on hundreds of those sorts of songs over the years, though they never realised how influential they were in the 60s when they made a big impression on the likes of the Beatles in the latter part of the decade. "Because playing music was hand-to-mouth back then," says Jones with a laugh. "For me, in the beginning, it was an after-school job, and for some of the others it was a job [they did] after their day job."
As well as playing organ and other instruments including the baritone saxophone and oboe, he feeds his love of music by hanging out at the Satellite Record Shop, which was run by the co-owner of Satellite Records (soon to become Stax).
"The record shop was the only thing that made money back then. And for me it was something I did after making my money throwing [news]papers after school, so it was a passion for me because I got to listen to records at the record shop. I never thought it would be anything more than that."
Who: Booker T. Jones
What: Pioneering Hammond organ player and soul, funk, R&B man
New album: Sound the Alarm, out now
Also listen to: Booker T & the MG's - Green Onions (1962), Melting Pot (1971). As Booker T. - Potato Hole (2009), The Road from Memphis (2011)
- TimeOut
Follow @nzherald_ent on Twitter for all the latest entertainment news.