The American behind a British retail institution has inspired a lavish tv drama writes Lydia Jenkin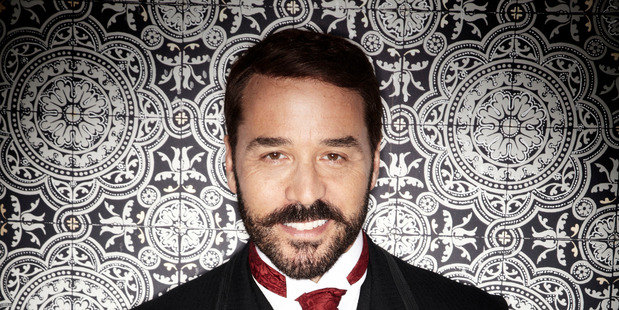 "London is crying out for it - we're giving them style, glamour, razzamatazz!" exclaims American expat Harry Selfridge, when new drama Mr Selfridge opens, taking audiences back to shopping on Oxford St, 1909.
Jeremy Piven, who plays the indomitable founder of iconic London store Selfridges with great energy, explains Selfridge's drive.
"Harry was all about putting on a show, and making shopping an experience. He put the customer first, and he was all about making it spectacular."
Indeed, he tells his staff as they prepare to open the store: "I want Treasure Island, Aladdin's Cave. I want merchandise that people will desire, I want merchandise that people won't even know they desire until they see it. We are going to show the world how to make shopping thrilling."
Though his story hasn't been widely told before, entrepreneur Harry Gordon Selfridge had a fascinating life - one that almost seems tailor-made for a television series.
An American who started out selling newspapers, he rose through the ranks at Chicago's Marshall Fields department stores over 25 years, working out what would keep customers satisfied. Then, in 1906, he moved to London, set up Selfridges, and promptly changed the face of British shopping forever. He was nicknamed "Mile a minute Harry" for his insatiable energy, and widely known for his persuasive oratory talents.
However he was a slave to his weaknesses: dalliances with pretty women, and endlessly overspending. Unfortunately, by the time he died in 1947, he was a pauper, having gone seriously off the rails after the death of his wife, Rosalie.
Now he is being celebrated and examined in Mr Selfridge, Andrew Davies' 10-part adaptation of Lindy Woodhead's biography, Shopping, Seduction and Mr Selfridge. The show reportedly cost about $1.96 million (1 million) an episode, and is not only lavish in its costumes and set design, but also in its sweeping storylines of high-society scandal, manipulating the press, actresses, adventurers, advertising, fashion and affairs which bridge the class divide.
It was Davies' vision for the show that really sold Piven on the role when he was approached to play Selfridge.
"It was all just so beautifully laid out, and Andrew's a great writer. I thought the story was such fertile ground, and Harry was such a trailblazer, and an authentic guy, that I just wanted to be a part of it."
Moving to London to film the show also gave LA native Piven - best known for his role as manic Hollywood agent Ari Gold in Entourage - an insight into Selfridge's initial experience of cultural differences.
"Here I am, coming over to the UK, trying to make my way in this British television show, and Harry came over at the turn of the century, and had to convince an entire culture that shopping was fashionable, when it wasn't. So there was a lot to draw from."
He found plenty of other elements in Selfridge's character to empathise with.
"I think there are lots of surprises with Harry, because he had so many dualities. He was a real family man who was desperately in love with his wife, but who also had affairs, and was addicted to taking risks in that area.
"He was a great believer in heavy advertising, but also a believer of truth in advertising, and that's a very interesting distinction.
"He was a risk junkie, but he was a fascinating man, and I think he genuinely really loved people, and loved to inspire them, both his customers and his workers. And I think they fed off that when he, figuratively, led them into battle. Lots of the people who worked for Harry were with him for their entire lives."
Although the idea of a department store being revolutionary might seem quaint in an age of internet shopping, Piven thinks audiences will find plenty of appeal in the period drama.
"I think people are fascinated by simpler times right now.
"Because it's very easy for all of us to delegate interactions and confrontations to other people, or to hide behind a text or an email, and I think you're talking about a time when we all had to go face to face, and there's something fascinating about that. Also, Harry was a very charismatic character, and his work, his legacy, his store, which was voted best store in the world 100 years later - he was definitely on to something. There's a good dose of humour, too, and it's a very sexy show."
Of course, an opportunity to revel in luxury goods, and the extravagance of the store is also very welcome.
Giving viewers a glittering, colourful, dreamy world of consumerism to slip into was very important to the creators, reflected in the fact they went to great effort to recreate the splendid shop floor of Selfridges in a former carpet warehouse in Neasden, northwest London.
"The set creators and designers really went to great pains to be incredibly accurate, and so what you see on screen is what you get. They've recreated Selfridges in 1909, and it's pretty stunning. The women who run ITV, they would come down to the store set, and they were really into it. They wanted to buy those things, they wanted the experience of shopping at the turn of the century! So we're doing something right."
As to whether his Entourage fans will fall for Harry the same way they fell for Ari Gold, Piven is hopeful.
"He's enough like Ari, in terms of being a leader, and being a trailblazer, but he goes about things in a completely different way. Audiences are intelligent, though, and they can see and sense when something is authentic and when something works, so I welcome them taking a look, and I hope they'll enjoy it. I'm very proud of it."
Who: Jeremy Piven as Harry Selfridge
What: New TV series, Mr Selfridge
Where and when: TV One, Sunday, July 14, 8.30pm
- TimeOut
Follow @nzherald_ent on Twitter for all the latest entertainment news.