Casting net being thrown for acting hunks to play All Black roles.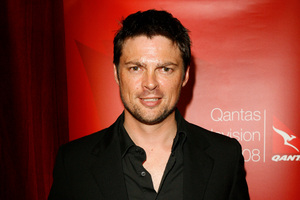 As Paul Henry's eponymous TV3 show remains in limbo while MediaWorks is in the throes of receivership, another high-profile Kiwi will see himself on the small screen. And probably sooner. This week New Zealand on Air confirmed the worst-kept secret: Stephen Donald's history-making World Cup penalty will feature in a TV movie, to be called The Kick.
Karl Urban is tipped to play All Black captain Richie McCaw. Producers told The Diary discussions are under way with Urban's agent and a script will be sent to him but no decision has been made yet.
Written by Tom Scott and produced by Great Southern Television, The Kick will screen on TV One next year in the Sunday Theatre slot. NZ on Air has granted $2.8 million from a $20 million drama budget towards the two-hour feature.
It will follow the All Blacks prepping for the Cup and take in behind-the-scenes stories shared by the NZRU for the production, including Donald's close friendship with Richard Kahui, his crazy drive to Auckland after the 11th-hour call-up and what really happened to the whitebait he brought back for the team.
But who will play Donald and the cast of All Blacks?
Insiders on the production say Hollywood hunk Jay Ryan (Beauty and the Beast) or Matt Whelan (Go Girls) may play Donald. Anthony Starr (Banshee) could play Kahui. Manu Bennett may step in for strapping Sonny Bill Williams. And Ian Mune could capture Sir Graham Henry's curmudgeonly traits.
Mutch ado about London
One News deputy political editor Jessica Mutch is relocating to London as TVNZ's European correspondent, replacing Garth Bray. TVNZ told The Diary that Mutch will leave her role in the parliamentary press gallery later this year and head to the UK.
"It's a prized role and we're very excited for her," said TVNZ spokesperson Nicole Wood. "Garth will return to the newsroom, and Jessica's position in the gallery will be up for grabs, but it's too early to say who will be appointed."
Mutch is a rising star at the network and has worked in the gallery for the past seven years. She joined the broadcaster in 2008 from Sky News and has firmly made her mark as one of TVNZ's biggest assets.
Mutch told The Diary the move is an opportunity to expand her skills beyond politics and a chance to travel the world reporting on a variety of topics. "The European correspondent role is a dream job at TVNZ and I'm really excited about the opportunity."
Anchors hog limelight
TVNZ's Seven Sharp has found its footing, seemingly in convivial but trivial current affairs. The network says consumer insight research shows viewers want more of an infotainment style at 7pm. And their new marketing campaign, dubbed "No Ordinary Stories", does just that.
Produced by the company's in-house agency Blacksand, Seven Sharp's glossy new campaign aims to show human interest stories with humour. Though the reporters who actually produced the stories featured aren't laughing.
In fact, they're absent. Instead, their stories are fronted by Seven Sharp's three anchors. Rehashing the work with more familiar faces is evidently more marketable.
Brodie Kane did an in-depth interview with 85-year-old Shirley Faull from Te Puke who drives rally cars but Greg Boyed appears in the ad campaign. And Jesse Mulligan is now the face of Matt Chisholm's detailed report on spear-fishing champ Gemma Shields. Apparently noses are out of joint.
Dotcom's helicopter hikoi
Internet tycoon Kim Dotcom, fighting extradition and frozen funds, put on quite the show for his 310,000 Twitter followers on Wednesday. His grand entrance to Wellington via helicopter for an appearance before the Intelligence and Security Committee on the GCSB was craftily captured in blow-by-blow tweets with an air of contrived carefree nonchalance.
There was the helicopter takeoff from Auckland and fuel stop in Wanganui, where his wife paid for chopper fuel.
"Mona just bought me 500$ [sic] of Helicopter Fuel. Best wife ever," Dotcom tweeted in an artful reminder of his fiscal predicament.
Mona was looking forward, he said, to dining later "in our favourite Italian restaurant in Wellington". Presumably she'd be splurging, too.
Mona, ever silent, was snapped in a blithe pose. Her finger cocked, her tongue poking out. It was all fun and games on the helicopter hikoi.
"How do you like my view, NSA?" Dotcom teased, posting a pic of the North Island coastline.
He turned up in his ubiquitous black fleece jacket (seriously, how many does he have?) and Mona toted a US$100,000 ($129,000) Hermes Birkin bag as the media followed their every turn.
Catfight of the Cs
While Kim Dotcom's hikoi by helicopter played out on Twitter ahead of his showdown with the Prime Minister, another political fracas was exploding on the micro blogging site on Wednesday.
Labour MP Clare Curran and National MP Judith Collins battled barbs on Twitter, embroiling Greens co-leader Metiria Turei and a feisty scrap on fashion that Joan Rivers would have envied.
The catfight began when Curran hit out at the Government's Family Court Proceedings Reform Bill being debated, tweeting that Collins looked "very uncomfortable in the house [over] her bill to abolish counselling for separated couples and lawyers for the child".
Collins fired back: "You could have found time to read the Bill before writing such nonsense".
She added, "try to be better than Metiria", in reference to Turei, who spoke against the bill before the house adjourned for lunch.
"Nasty," Curran snapped.
"No accurate," Collins lobbed back.
Forget the thrills and spills of Wimbledon, this was playing out to be an ace rally.
Another tweeter jumped in urging Collins not to bring Turei into the argument or "she'll throw compost at you!".
"She did just before lunch," Collins replied. "Vile, wrong and ugly. Just like her jacket today".
Curran snapped: "That's definitely nasty, personal and unnecessary".
Turei was peeved, too. Her beige, boxy blazer with black trim and buttons had been rubbished.
"Don't worry about Judith, she's a little miffed that I buy from the same shop she does. It's very childish of her," she responded to another tweeter.
Collins, a fashion-plate of the Hillary Clinton kind, wasn't buying it: "Wrong again. Don't shop there."
No pandering to fashion
PS: One female MP finding the love, and a little warmth, was Labour's Jacinda Ardern who said she braved the chill last night wearing a panda onesie for the Lifewise Big Sleepout.
"I'm wearing a onesie for a cause. Dignity is over-rated," she joked to The Diary.
"It's my 4th year and I'm very serious about raising concerns about homelessness in New Zealand."